All face-to-face breastfeeding groups have been suspended due to the Coronavirus outbreak.
Lancashire County Council Families and Babies (FAB) have provided some alternative support.
The infant feeding helpline remains the primary contact point for all communications and is available daily, from 9:30am-2:30pm, on 01254 772929 (voicemail available outside of these hours, picked up the next working day).
You can also email admin@familiesandbabies.org.uk for general enquiries or Katie.mcwalters@nhs.net for NHS referrals into peer support.
Whilst face to face support is priority only due to COVID19, FAB are still very actively supporting families across Lancashire. They have implemented a varied digital offer that includes the following options for infant feeding peer support:
One to one video support with a range of platforms to suit the family, including; Zoom, WhatsApp, Facebook Messenger and Microsoft Teams/Skype) – we recommend this option for specific questions or concerns
One to one telephone, text or email support
Online antenatal and postnatal support groups on Facebook
Video groups sessions on Zoom
Monthly two-part antenatal workshop on Zoom
We have put together a timetable of the current digital group support options and we hope that we have made these accessible to all.
Digital Group Support Timetable
| | |
| --- | --- |
| | Zoom Group |
| Monday | 11am-12pm with Amanda from 16 November 2020 |
| Wednesday | 11am-12pm with Emma from 25 November 2020 |
| Friday | 11am-12pm with Toni from 20 November 2020 |
Antenatal Digital Support
---
Breastfeeding Groups
Visiting a breastfeeding group both in your pregnancy and after your baby is born can be a great way to share experiences and support with other breastfeeding families.
Blackburn with Darwen Groups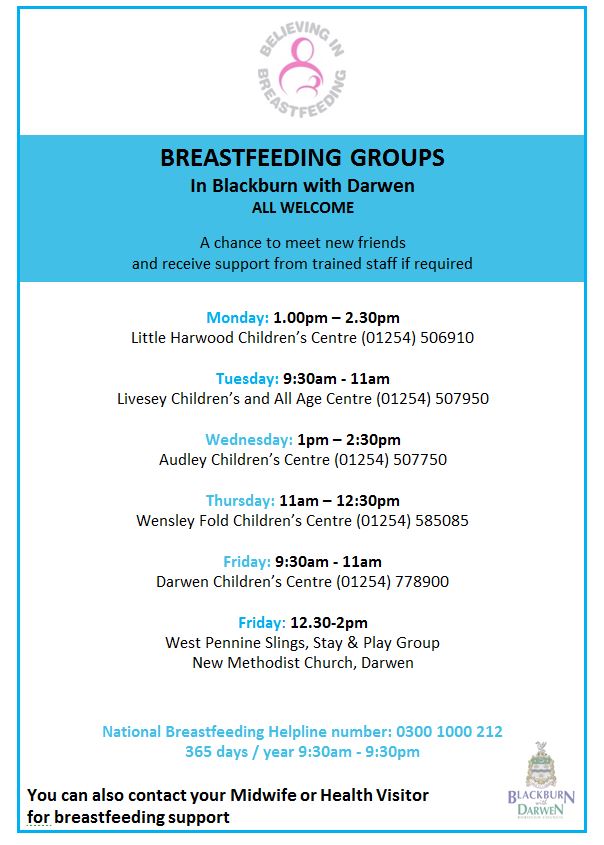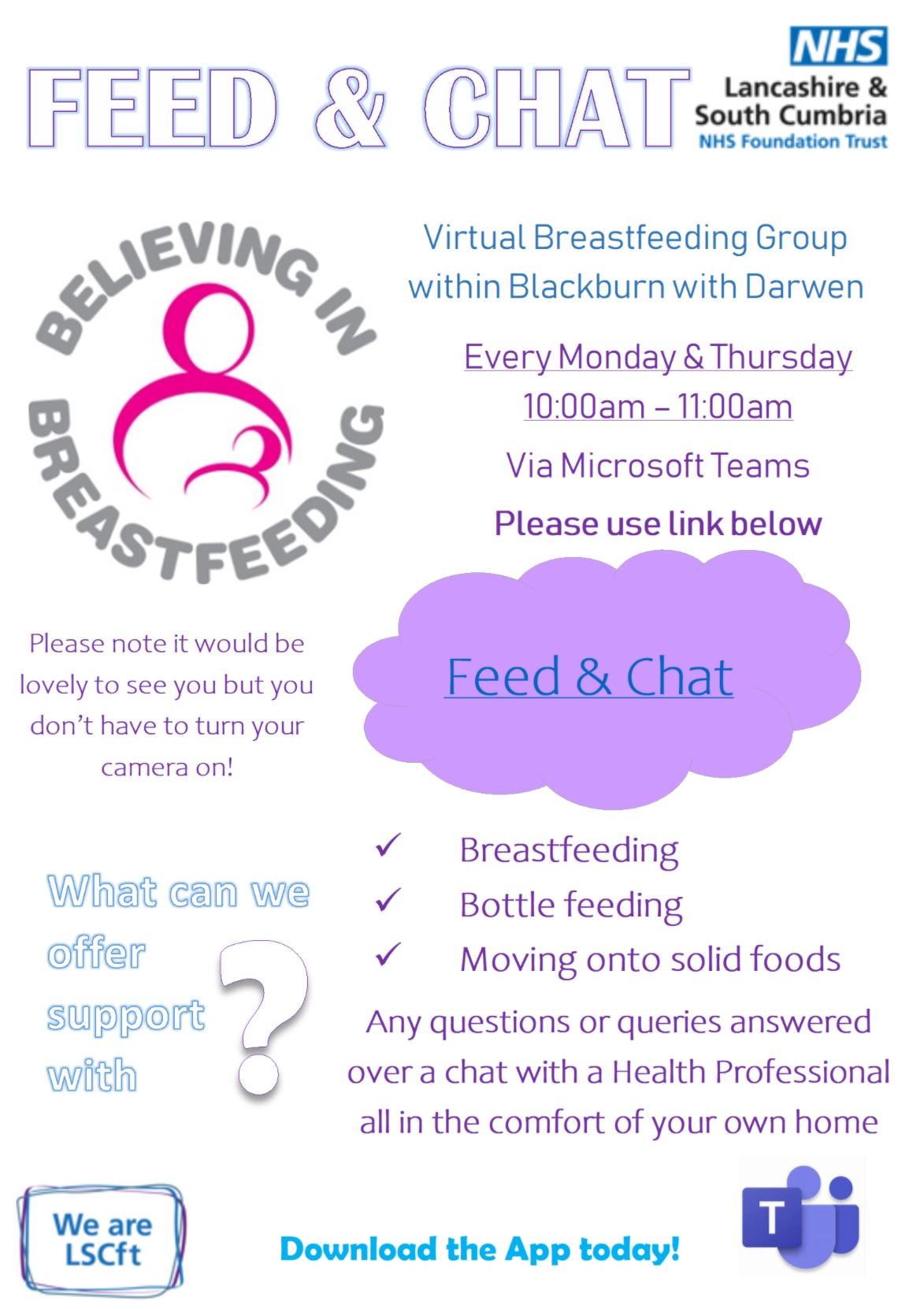 East Lancashire Groups
Families and Babies - Breastfeeding support
Leaflets
For the following leaflets - Off to the best start, Building a happy baby, Caring for your baby at night, Feeding twins, Expressing, Caring for your Premature baby, Formula feeding, responding to babies needs and more please follow this link.
---
Videos
For videos on Skin to Skin, Information for Dads, Mums experience of breastfeeding and overcoming challenges, hand expressing your breast milk, breastfeeding in public please follow this link.
Breastfeeding
friendly places

Click the icon for more information.

Breastfeeding at
work/study

Click the icon for more information.
Prepare for Breastfeeding (audio clip)
This FREE audio clip gives you some useful tips on infant feeding such as attaching your baby onto your breast, close loving relationships and skin to skin. This download will sit alongside all the conversations you will have during your pregnancy with your midwife. The download enables you to settle back, relax within the comfort of your own home and enjoy being with your baby, feeling your baby move, interacting with your baby. Relaxation helps release endorphins, these are our feel good hormones. Pregnancy is about building a relationship with your baby.
Download the clip here.
---
Support for families expecting twins or more
See the links below for guidance:
bestbeginnings.org.uk/fbtb-twins-or-more
abm.me.uk/breastfeeding-information/breastfeeding-twins/
---
Parent-Infant Relationships
---
Antenatal
Your Health Visitor will contact you between 30-40 weeks and arrange a home visit. This is a great opportunity to explore your feelings around your pregnancy and caring for your baby when he or she is born.
Booking onto your local antenatal classes
Shape up, Move more – Antenatal and Postnatal Activities
Click here to see a series of activities available to help expectant and new Mums
---
Information for parents who are formula feeding
Statement on formula preparation machines
UNICEF bottle feeding resources
---
Moving onto solid foods
Please see these leaflets below for advice on weaning and introducing solid foods to your infant.
Start4Life - Introducing solid foods
Moving onto solid foods poster
---
Resources in other languages
The UNICEF Baby Friendly Initiative has published Breastfeeding and Bottle feeding written resources in Arabic, Bengali, Hindi, Lithuanian, ​​​​​​​Mandarin, ​​​​​​​Polish, ​​​​​​​Romanian, ​​​​​​​Slovak, ​​​​​​​Turkish and ​​​​​​​Urdu. To access these, click here.
---
Social Media
Blackburn with Darwen's infant feeding support 'Breast Intentions' on Facebook.
---
Useful documents
Expressing and storing breast milk