Breastfeeding Groups
Visiting a breastfeeding group both in your pregnancy and after your baby is born can be a great way to share experiences and support with other breastfeeding families.
Blackburn with Darwen Groups
East Lancashire Groups
Families and Babies - Breastfeeding support
Leaflets
For the following leaflets - Off to the best start, Building a happy baby, Caring for your baby at night, Feeding twins, Expressing, Caring for your Premature baby, Formula feeding, responding to babies needs and more please follow this link
Videos
For videos on Skin to Skin, Information for Dads, Mums experience of breastfeeding and overcoming challenges, hand expressing your breast milk, breastfeeding in public please follow this link
Breastfeeding friendly places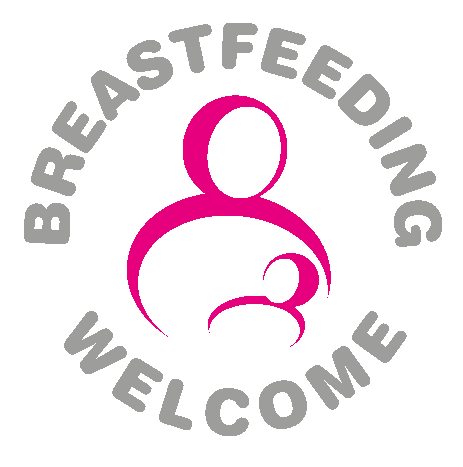 Click here for a list of breastfeeding friendly places
Breastfeeding at work/study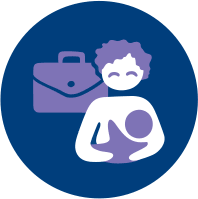 Click the icon for more information.
Prepare for Breastfeeding (audio clip)
This FREE audio clip gives you some useful tips on infant feeding such as:
It includes attaching your baby onto your breast, close loving relationships and skin to skin. This download will sit alongside all the conversations you will have during your pregnancy with your midwife. The download enables you to settle back, relax within the comfort of your own home and enjoy being with your baby, feeling your baby move, interacting with your baby. Relaxation helps release endorphins, these are our feel good hormones. Pregnancy is about building a relationship with your baby.
Download the clip here.
Parent-Infant Relationships
Click on the link to find out more:
https://www.lancashirecare.nhs.uk/parent-infant-relationships
Antenatal
Your Health Visitor will contact you between 30-40 weeks and arrange a home visit. This is a great opportunity to explore your feelings around your pregnancy and caring for your baby when he or she is born.
To book onto your local antenatal classes please ring:
Blackburn – 01254 733434
Shapeup, Move more – Antenatal and Postnatal Activities
Click here to see a series of activities available to help expectant and new Mums
Information for parents who are formula feeding
Statement on formula preparation machines
UNICEF bottle feeding resources
Moving onto solid foods
Please see these leaflets below for advice on weaning and introducing solid foods to your infant.
Start4Life - Introducing solid foods
Moving onto solid foods poster
Resources in other languages
The UNICEF Baby Friendly Initiative has published Breastfeeding and Bottle feeding written resources in
Arabic
Bengali
Hindi
Lithuanian
Mandarin
Polish
Romanian
Slovak
Turkish
Urdu
To access these, click on the link below:
https://www.unicef.org.uk/babyfriendly/baby-friendly-resources/leaflets-and-posters/foreign-language-resources/
Social Media
Follow us on Twitter - @BabyElht
Blackburn with Darwen's infant feeding support 'Breast Intentions' on Facebook.
Useful documents
Expressing and storing breast milk
Antenatal hand expressing of colostrum
| Thumbnail | Title | Size |
| --- | --- | --- |
| | A Guide to bottle feeding leafle.pdf | 1,618.67 KB |
| | AN hand expressing patient leaflet Nov 2017_combined diabetes and induct.._.pdf | 343.66 KB |
| | ANTENATAL Twins leaflet JUNE 2017 v1.pdf | 378.24 KB |
| | Breastfeeding A5.pdf | 236.49 KB |
| | Breastfeeding guidance for staff_warm weather_25.7.19_comms (3).pdf | 206.54 KB |
| | building_a_happy_baby.pdf | 1,185.73 KB |
| | colostrum TC leaflet.pdf | 167.13 KB |
| | Formula Feeding A5.pdf | 229.26 KB |
| | Full page photo.pdf | 233.31 KB |
| | How to tell bottle feeding is going well April 2018 v1.pdf | 143.16 KB |
| | How to tell if breastfeding is going well.pdf | 181.81 KB |
| | Jaundice in Newborn.pdf | 220.63 KB |
| | Mixed feeding A5.pdf | 275.62 KB |
| | off to the best start_leaflet.pdf | 1,211.08 KB |
| | Partners and Breastfeeding A5.pdf | 251.23 KB |
| | Protecting your baby V1May 2019.pdf | 185.15 KB |
| | pump rental changes November 2018.pdf | 251.86 KB |