Burnley Birth Centre is an alongside midwife-led unit within Burnley General Teaching Hospital. We provide Safe, Personal and Effective antenatal, intrapartum and postnatal care.
Philosophy of the Community and Birth Centre Midwives
"We aim to provide safe, personal and effective Midwifery care to all women and their families throughout the childbearing continuum; seamlessly supporting low-risk women from their first booking appointment, throughout labour and up until the final postnatal visit. Ladies seeking a comfortable, friendly, 'home from home' environment in which to birth may choose the Burnley or Rossendale Birth Centres. All of the Midwives are experienced in supporting normal birth and wish to facilitate a positive childbearing experience for all women in their care."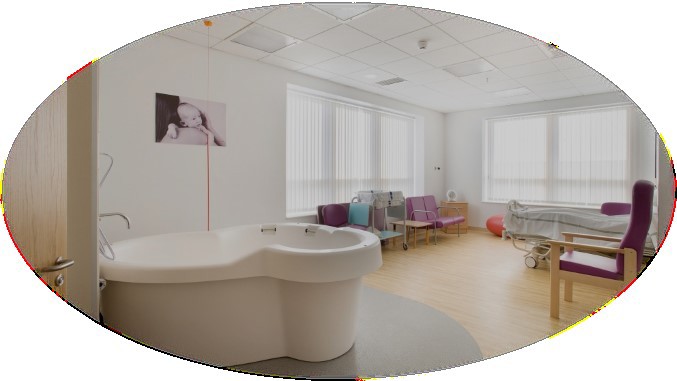 "Planning birth at home or in a midwifery unit is associated with a higher rate of spontaneous vaginal birth" – (National Institute for Health and Care Excellence, 2017)
Burnley birth centre is an alongside midwife-led unit, located within the main obstetric unit of Lancashire Women and Newborn's Centre within Burnley General Teaching Hospital.
It is staffed by community/birth centre midwives to provide care to women on a low-risk care pathway with a view to promoting normality. Midwives are recognised as "responsible, accountable professionals" who work with women and families during pregnancy, labour and the postpartum period. During labour, we encourage women to work with nature, adopting upright positions, keeping active, and offer minimal intervention unless indicated. Low-level pain relief options are available including the use of the birthing pools, birth balls/stools, Entonox (gas and air), and other pharmacological options deemed safe to be administered in the birth centre setting. Where possible, we offer the benefit of continuity of carer from the midwife/community team member who has been providing antenatal care.
Facilities
Burnley Birth Centre has 7 birth rooms (3 of which have birth pools).
We have birth stools, mats and CD players available to aid your relaxation and comfort.
Burnley Birth Centre is located alongside the Central Birth Suite should transfer of care be required.
Services available
Antenatal and postnatal care to women and their newborns
Care in labour for midwifery led women
Immediate postnatal care
Newborn examination and vaccination if required
Tours of the facilities at Lancashire Women and Newborn Centre - tours are suspended until further notice
Breastfeeding support
Hearing screening
Homebirth service
Parent education programmes
Aromatherapy (See leaflet below)
Tours
Please note, all tours have been suspended until further notice.
You can view a virtual tour here: https://www.youtube.com/watch?v=35KluKWoG44