Our mission statement
The level 3 neonatal unit on Burnley General hospital is located at the Lancashire Women and Newborn Centre. It has two clinical wings- the Neonatal Intensive Care Unit (NICU) where babies requiring intensive care, high dependency care and special care are admitted, and the Post-natal and Transitional care where mothers and babies are looked after together.
Our neonatal unit cares for the sickest and smallest of the babies. We provide the whole range of neonatal care except for surgical and cardiac interventions for which we liaise with referral centres in North West. We have developed a niche in caring for the extreme preterm infants and taking care of their complex needs.
The aim of our service is to integrate evidence and science into pragmatic yet empathetic high quality care. We believe in trying to link technology and innovation with emotional and ethical aspects to provide a holistic approach. We strive to make sure that the family is at the centre of the care provided and have embraced Family Integrated care (Fi Care) fully.
Neonatal unit journey can often be a stressful experience for parents and the aim of our dedicated physicians, nurses and allied health professionals is to make this a more assured and memorable one, ensuring the babies and families receive the best possible care of the highest standard.
The Neonatal Unit is one of two Level 3 units in Lancashire and South Cumbria providing 24 hour inpatient services for Neonatal Intensive Care (NICU), High Dependency (HDU), Special Care (SCBU) and Transitional Care (TC) infants. The unit is equipped to provide care for babies born at the extremes of gestation (>22 weeks) and caters to a delivery rate of over 6,200 babies born every year.
The Neonatal Unit is in the Lancashire Women and Newborn Centre (LWNC) on the site of Burnley General Teaching Hospital in East Lancashire. This Unit (opened in 2011) is a purpose-built, state of the art build designed to the highest specifications in line with standards set by the British Association of Perinatal Medicine (BAPM).
The Neonatal Unit at LWNC has 14 ICU/HDU cots (six intensive care cots and eight high dependency cots to be used flexibly) and 20 special care cots with a total capacity of 34 cots. In addition, there are two isolation cots when babies need to be cared for separately due to their specific needs.
During the Covid 19 crisis, 4 purpose-built single-room neonatal care areas have been built within the HDU. Each of these rooms are fully isolated and functionally equipped to deliver intensive care if required.
There are also 12 Transitional Care cots allowing babies requiring extra support that can be supported on the post-natal ward to stay with their mothers.
Services and Treatments
Intensive care
(Single high dependency pod)
The Unit provides a comprehensive range of services, therapies and treatments including:
Deferred cord clamping for all preterm deliveries in accordance with the National Neonatal Audit Programme (NNAP). This is facilitated through customised mobile resuscitation trolley.
All forms of invasive and non-invasive respiratory support for sick newborns including conventional ventilation, high frequency oscillatory ventilation, non-invasive positive pressure ventilation (NIPPV), continuous positive airway pressure (CPAP) and high flow nasal therapy (HFNC). The unit has also developed an expertise in managing babies with chronic breathing problems like BPD (BronchoPulmonary Dysplasia) that often affects preterm babies.
Inhaled nitric oxide (iNO) treatment for babies with difficulty in oxygenation, despite full intensive care measures. The unit is a referral centre for iNO and babies are brought here for this treatment.
Therapeutic Hypothermia: Being a 'Cooling Centre' in Lancashire and South Cumbria providing treatment of Total Body Cooling to babies born in poor condition at birth. This means babies will be brought here for this specialist treatment.
Imaging : All consultants are trained in cranial ultrasound and majority of consultants are trained in performing echocardiography screening to detect congenital heart disease. The centre has facilities to perform MRI and CT scans in the radiology department, with dedicated radiologists with paediatric expertise. We also have the ability to share imaging with tertiary units and in the future plan to be able to share real time ultrasound imaging with tertiary cardiology.
A consultant delivered opthalmology screening service for retinopathy of prematurity (potential visual problems related to premature birth)
Tertiary centre referrals: The unit has strong links with tertiary paediatric centres in Manchester and Liverpool including visiting specialist consultants who are able to review babies on an outpatient basis.
Transitional and postnatal care
Lancashire Women and Newborn centre has a full-fledged transitional care unit located within the postnatal ward area where babies requiring additional treatments such as intensive phototherapy, intravenous antibiotics or those babies that need help with nasogastric tube feeding can be safely cared for with their mothers thereby avoiding separation of mothers from their babies. This is supported by a team of trained neonatal nurses, midwives, advanced neonatal nurse practitioners and doctors.
The unit has implemented universal 'pulse oximetry screening' for all babies prior to discharge to allow early identification of breathing problems and heart conditions.
Antenatal counselling, outpatient and follow up services
All neonatal consultants run an antenatal advisory service for prospective parents where abnormalities have been detected in utero, to plan postnatal management.
A children's outpatient clinic service (COPD) at both Royal Blackburn and Burnley General Teaching Hospitals to provide follow up for infants who have been discharged from hospital.
Neonatal Community Team
The Community team is staffed by senior dedicated, expert neonatal nurses who support and facilitate continuous, effective discharge planning to provide a seamless transition from the Neonatal Intensive Care Unit to home. Successful discharge preparation facilitates the family's readiness in early, safe and appropriate discharge and improves patient flow and service provision on NICU. The Community Team provide ongoing care delivery, advice, training and support families with babies who have complex ongoing care needs such as home oxygen, nasogastric tube feeding, post-operative care, complex needs like congenital heart disease and those having palliative care at home. The large geographical area the team covers can sometimes pose difficulties and as a service improvement we have set up Nurse led Clinics in the hospital and local Children's Centres.
As a new innovation, we are investing in nurse led home oxygen weaning practice. This will benefit babies and families with a faster weaning process, less visits, improvement in care and enhance capacity.
Baby-friendly care \ Feeding your baby on the Neonatal Unit
Baby friendly / family friendly care is very important to us and we aim to put babies and families at the heart of everything we do in Burnley NICU. We are working towards UNICEF Baby Friendly Initiative (BFI) accreditation. There are three stages to this accreditation, and we are currently preparing for the final stage.
In our everyday work, we are committed to fully implementing the BFI standards which include excellence in care with regard to feeding and the valuing of breast milk, building close and loving relationships between parents and their babies and treating parents as partners in care.
We aim to help and support you to feel welcomed, comfortable and empowered to care for your baby, build your confidence and we will keep you updated regarding your baby's progress, whilst involving you in decision making.
Please feel welcomed to discuss with our nursing and medical team if you have any questions.
We want parents to:
Feel supported to understand that a parent's relationship with their baby is crucial for short- and long-term well-being development. Parents have a really important part in their baby's care. Skin to skin contact is a vital part of this care.
Understand that breast milk is highly important to protect both preterm and term, sick babies admitted to NICU and we will support mothers to express their milk soon after birth, frequently and effectively. Please know that we will support your full feeding journey and your informed decisions.
Feel welcomed to be with their baby 24/7, be supported to increase their confidence in providing care for their baby. Parents will be treated with respect, dignity and equality and will be kept up to date, during their entire NICU journey.
Being a parent on the Neonatal Unit can be a very hard and emotional journey. We are here to support you every step of the way.
Expressing breast milk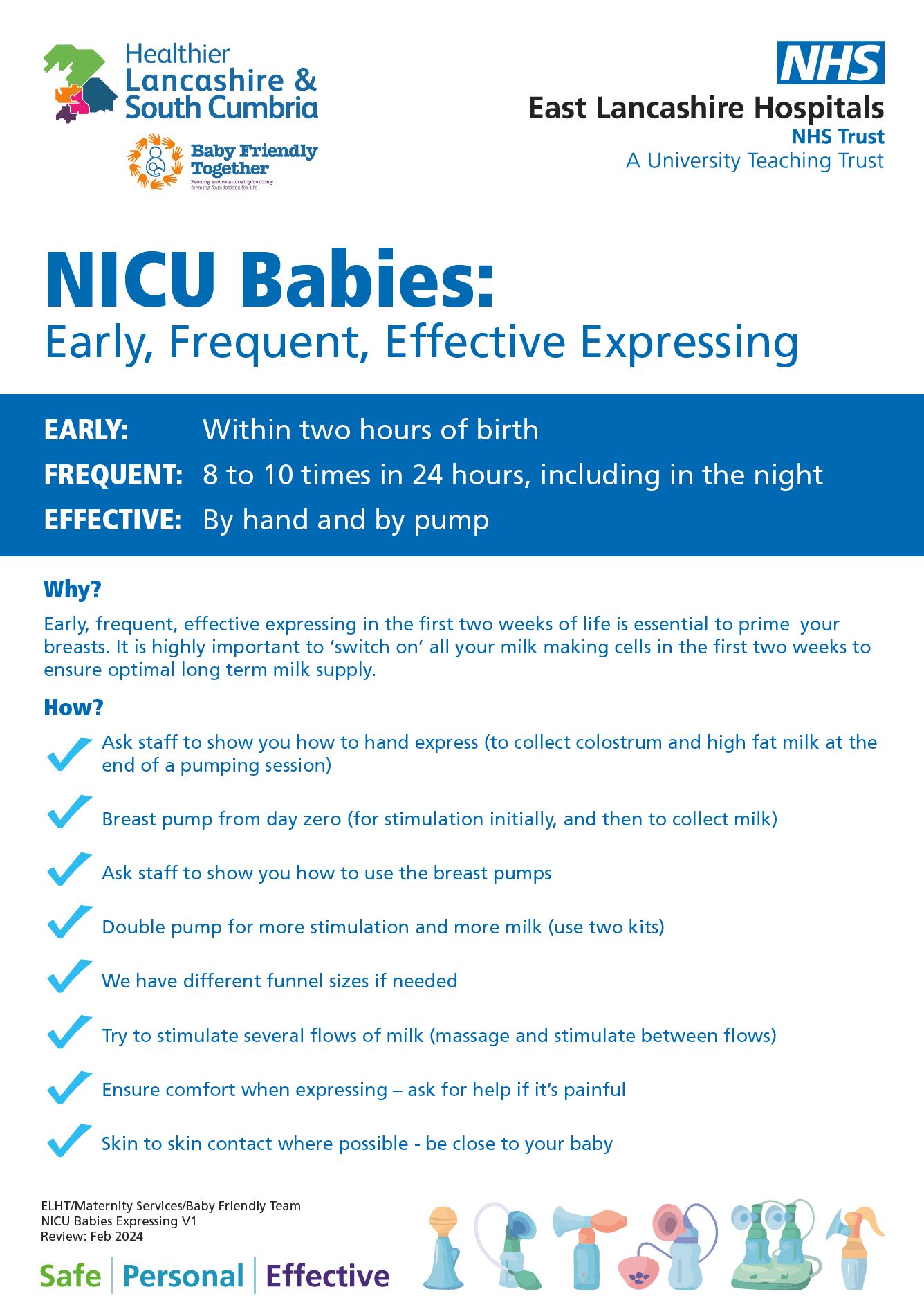 Importance of breast milk
For families
Family integrated care
Here on the unit we believe that families are the most important part of neonatal care. With that in mind we aim to provide family integrated care. This is a model that supports and educates parents to become integral participants in their baby's journey; from the time of admission to discharge in partnership with the neonatal team. The aim is to make parents of these babies feel empowered enough to be involved and to participate in as much of their baby's daily requirements.
For details on parking, rest areas and accommodation please see the attached FiCare leaflet
End of life care and bereavement support
Sadly, not all NICU journeys have happy endings.
For such circumstances, we want to ensure absolutely everything is done to make the remaining moments dignified and memorable.
Our newly built "Forget me not" suite provides parents and near ones the privacy and space they require during such challenging times.
Take a tour
(click on the image below to view video)