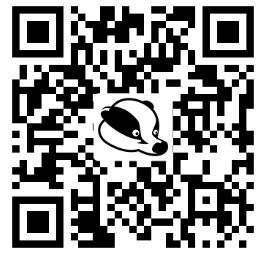 Have your say on Badgernotes...
Have you recently used the Badgernotes app for your maternity care? Please scan the QR code to complete a short survey about your experience and feedback and what you'd like to see more of so we can improve our user experience for women in our care.


About us
All our facilities are purpose-built, clean and modern with birthing pools available in all the birth centres and on the birth suite.
Over 6000 women choose to have their babies at East Lancashire Hospitals NHS Trust (ELHT) each year.
ELHT's maternity staff have been praised in the Care Quality Commission (CQC) Maternity Survey 2019. 100% of women who responded to the survey said that they had "confidence and trust" in the staff caring for them during labour and birth.
We were the first Trust in the world to be awarded the UNICEF Baby Friendly Initiative Gold Standard accreditation in 2017. This means we consistently demonstrate best practice standards around infant feeding and relationship building within maternity services. 
We are committed to providing you with choice:
A choice of how to access your maternity care
A choice around the type of antenatal care you receive
A choice of where you give birth to your baby
A choice around where you receive care after the baby is born
Your choice of place of birth includes the following:
Homebirth
Stand alone, midwife-led birth centres in Blackburn and Rossendale
Burnley Birth Centre, located next to the main maternity unit in the Lancashire Women and Newborn Centre at Burnley General Teaching Hospital
A Consultant-led birth suite located in the Lancashire Women and Newborn Centre at Burnley General Teaching Hospital
Our Philosophy of Midwifery Care
The philosophy of East Lancashire Hospitals NHS Trust Maternity is to provide a high-quality maternity and neonatal service.
We strive to give safe, personal and effective care at the right time, in the right place, at all times.
We aim to provide care and services which are evidence based and family centred.
Safety
Our maternity services have been assessed by the Care Quality Commission and rated as good in all areas: Safe, Effective, Caring, Responsive and Well-led.
Badgernet and Badger Notes
A new way to access your maternity healthcare records.