Safe, effective care through research
Welcome to the research pages of this website.
At East Lancashire Hospitals NHS Trust, we're looking for the safest and most effective ways of caring for patients and treating disease. Our researchers are the same clinical staff who care for patients. They design and carry out clinical research studies, and work with patients, public representatives, and our university and industry partners, to help develop the treatments of the future.
The success of clinical research depends heavily on the willingness of patients to get involved. It's thanks to all the East Lancashire patients who say yes to research, and volunteer to take part in a research study, or to help shape and design research, that we're able to do this.
Choosing research
If you're a patient at the hospital, your care team will check your hospital records and might ask if you'd like to join a research study. Whether to take part is your decision. We hope that the information on this website will help you to decide what is right for you. Your treatment and care will not be affected if you decide not to take part.
Contact us
For information on research at East Lancashire Hospitals NHS Trust, please contact the Research and Development (R&D) Department.
Research and Development
Level 3
Royal Blackburn Teaching Hospital
Haslingden Road
Blackburn
BB2 3HH
Tel: 01254 733008
Email: Research@elht.nhs.uk
Twitter: @ELHTresearch
Women and Children's Health Research Team

Burnley General: 01282 803081

Royal Blackburn: 01254 732650

Multi-disciplinary Research Team

Royal Blackburn: 01254 732651

Cancer Research Team

Royal Blackburn: 01254 733299

Burnley General 01282 805245

Pharmacy Clinical Trials Team

Royal Blackburn: 01254 734168

Clinical Research Development

07977 503545

researchideas@elht.nhs.uk
Take part in research
Many patients choose to take part in research. In doing so, they may gain access to new treatments. Often, the choice to take part is driven by a desire to help current, or future patients, in a similar situation.
Here we answer questions about taking part in clinical research.
How can I find out more about the research studies available for me?
You can search our list of current studies or visit the be part of research website to find clinical research studies happening both locally and nationally.
Your care team will provide you with information about any studies that might be available for you. They will give you an information leaflet and explain why the study is being done and what it involves for patients. You can ask questions and have time to think about whether to take part.
Can anyone take part?
All research studies have eligibility criteria which define the patients who may (and may not) take part in a study. The eligibility criteria are there to protect patients and make sure that only those who could potentially benefit from taking part in a study are included. For example, women who are pregnant might not be invited to take part in a study of a new medicine, if little is known about the effect of that medicine on an unborn child.
Doctors, together with other members of the research and clinical teams, will consider carefully if a study will be safe for you. Only if it is, will they invite you to take part.
Is it safe?
All medical treatment carries potential risks or side effects, but patient safety and well-being is a top priority in clinical research. Steps are taken to make sure that any risks associated with clinical research are identified, reduced and managed effectively.
Clinical research studies must be reviewed and approved by the Health Research Authority (HRA). As part of this process, an independent research ethics committee, which includes members of the public, will ensure that the purpose of the study can be justified on ethical grounds, and that the rights and privacy of the patients who take part will be fully protected. The ethics committee looks carefully at the study protocol – a detailed plan of how the research study will be conducted. They will also review the information to be provided to patients, to check that it is clear and accurate.
The Medicines and Healthcare products Regulatory Agency (MHRA) will also review and provide authorisation for clinical trials involving medicines. The MHRA will inspect these studies to ensure they meet the standards required by the regulations for clinical trials.
The checks on safety do not stop there and you will be closely monitored whilst taking part in a research study.
Do I have to take part?
No. It is entirely your decision and you must take time to consider what is right for you. Your care and treatment will not be affected if you decide that taking part in a research study is not for you.
What will happen if I do decide to take part?
Your doctor or a member of the research or clinical team will talk to you about the study. You'll be given a patient information leaflet which describes why the study is being carried out and what is involved. The research team will be available to discuss the study in more detail and to answer any questions that you may have. Wherever possible, you will be given time to think about whether to take part in the study. If you decide to take part, you will be asked to indicate this in writing by signing a consent form.
What happens next may vary and each study is different. You may need to attend extra clinic visits or have extra tests, take new treatments or different combinations of treatments or you may be asked to answer a questionnaire or to keep a diary at home.
The research team will be able to provide information on what happens in each study, including practical details such as where to collect your medication, whether you'll need help from friends or family or to take time off work to attend appointments. Please ask them for more information.
Will my health information be treated in confidence?
Regulations govern the use of personal data in healthcare and also in clinical trials. Researchers are aware of these regulations and take steps to ensure that your personal data remains confidential and is accessed in accordance with the regulations.
The arrangements for collecting, sharing and storing information about you will be described in the patient information leaflet for the study and you will need to provide consent – a written agreement – for your information to be used.
The research team will be able to answer any questions you may have about the use of your personal information in a research study.
For further information see the section of our website 'how we use your information'
Will I be paid for taking part?
Healthy volunteers may receive payment for taking part in clinical research but it is not considered ethical for patients to receive payment. However, some studies do offer travel expenses to assist with the cost of attending additional appointments for the purpose of the study.
What if I change my mind?
You have a right to change your mind and withdraw from a research study at any time. You don't have to give your doctor or the research team a reason why. The research team might ask if you are happy for the data already collected to continue to be used in the study. Again, this is your choice.
Help to shape research
The best quality clinical research involves patients and the public, helping researchers to develop and improve their ideas for research. It could be helping to design a research study, helping to write information about a study that is clear and easy for patients to understand, collecting research data, or helping to make decisions about which research studies should receive funding.
Organisations that support patients, the public and researchers to work together
National Institute for Health Research (NIHR)
The NIHR is funded through the Department of Health to improve the health and wealth of the nation through research. The NIHR website explains how members of the public can get involved in clinical research.
Involve
The NIHR funds Involve which supports public involvement in NHS, public health and social care research
People in Research
People in Research is an online national database that allows people to search for opportunities for public involvement in research.
Why do research
Clinical research starts with a question about the cause of disease or how best to provide care or treatment for patients. To gather the evidence to answer these questions, health professionals will carry out a research study.
What does it involve?
All clinical research involves the collection of research data. The data is analysed, reviewed and published in medical journals. It may be the data from a single study or from a number of studies considered together, that will change how care and treatment is provided.
There are different types of clinical research study. Some involve in-depth interviews with patients about their experiences of disease or care. Others may look at new ways to test for the presence of disease. Clinical trials are research studies which look at new treatments to see whether they are safe and work well. They may also look at the use of current treatments when they are used in different ways or in different combinations.
Why is it important?
The NHS knows that research is important. It leads to new treatments for patients, changes the way healthcare is delivered, brings potential benefits for individual patients who take part in research studies and helps to improve the health of the nation overall.
That's why research is part of the NHS constitution. It's a commitment to the promotion, conduct and use of research to improve the current and future health and care of the population.
Our researchers
The researchers at East Lancashire Hospitals NHS Trust are the same health professionals who look after patients in the Trust. They understand the need for the best evidence about new treatments and ways of providing care. Our researchers come from all clinical areas. They contribute to national and international studies and design and carry out their own research. Many are active in local, regional and national research groups.
If you would like further information about the work of our researchers, please contact the Research and Development (R&D) Department.
How we use your personal information
Who has access to my personal information for research?
The research team at East Lancashire Hopsitals NHS Trust, is part of the clinical team that care for you. They access and use the personal data of patients in accordance with all applicable guidance and regulations.
How is my personal information used in health research?
The research team may review your hospital records to see if you can take part in research.
If you decide to take part in a research study, information about you will be collected, stored securely and shared with the research sponsor. What information is collected and how long it is stored for will vary from study to study.
How can I find out more?
When you are invited to take part in a research study you will be given a patient information leaflet. This gives information on what personal information will be collected and how it will be used for the study. If you have any questions, you can find out more by asking the research team or your doctor.
You can also direct questions to the Research and Development Department or the Trust Data Protection Officer.
The Trust has a privacy notice for service users which explains how your personal information may be used.
For further information about how personal information may be used in health research, please visit the Health Research Authority website.
Performance data
The National Institute for Health Research (NIHR) asks NHS Trusts to publish performance data for their research studies. The data for East Lancashire Hospitals NHS Trust is published in the table below.
For more information about NHS research performance, please visit the NIHR website.
Initiating clinical research

How long it takes to set up research studies within our hospitals and for patients to begin to take part in those studies.

Delivering clinical research

Whether the agreed number of patients enter our research studies in the time expected.

2019-20
2019-20

2018-19

2018-19
Support for your research study
The National Institute for Health Research (NIHR) Clinical Research Network supports a portfolio of clinical research studies. For any study that is eligible or applying for Network support, dedicated advisors can help with study feasibility, regulatory approvals, site identification, costings, and set up and delivery to time and target.
Click here for more information on study support
Research news
Our latest news
View the latest news for the Research and Development (R&D) department in our research bulletin.
National Institute for Health Research launches 'Your Path In Research' campaign
The National Institute for Health Research (NIHR) has launched a new publicity campaign 'Your Path In Research'. It encourages healthcare professionals to learn more about the research taking place around them, and to take their first or next steps on the path to their research career.
The campaign shows four easy ways to take a first step in research:
The campaign is backed by a website and social media where, throughout the month of October, a series of tweets, blogs and videos will showcase the research journeys of NHS staff, and highlight the opportunities available to develop a research career.
Research team welcomes new doctors
Members of the ELHT research team welcomed a new intake of doctors at their induction event. There was lots of interest in Good Clinical Practice training, a free, on-line, industry-standard training for those undertaking research into new medicines and medical devices. The team also signposted the new doctors to ELHT's portfolio of research studies and the resources available to support research.
Research findings EMPOWER expectant mothers
East Lancashire researchers attended an event in Manchester, held to celebrate International Clinical Trials Day and showcase the wealth of research happening across the Greater Manchester area. The event was held at the offices of the National Institute for Health Research (NIHR) Clinical Research Network Greater Manchester and supported by research organisations from across the region.
The East Lancashire team displayed information about the SHIP trial (Self Hypnosis in Pregnancy) to show how the research outcomes had developed into the EMPOWER suite of resources. The resources include education and self-hypnosis downloads and are now available for pregnant women being cared for at ELHT.
Celebrating International Clinical Trials Day 2019
The research team delivered a packed schedule of activities to celebrate International Clinical Trials Day. The event, held on 20th May each year, celebrates the benefits of health research and the contribution of everyone involved.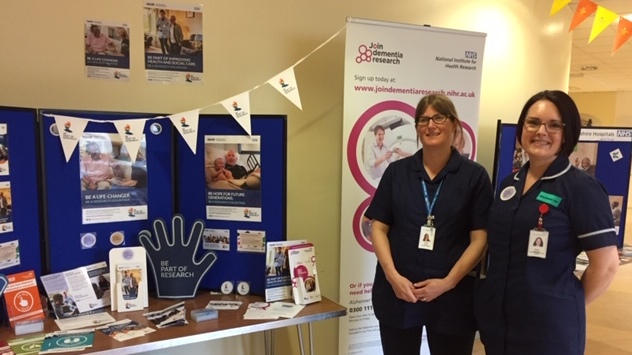 Displays in the foyers of the Royal Blackburn Teaching Hospital and Burnley General Hospital highlighted ELHT research activity, the new Be Part of Research resource and Join Dementia Research.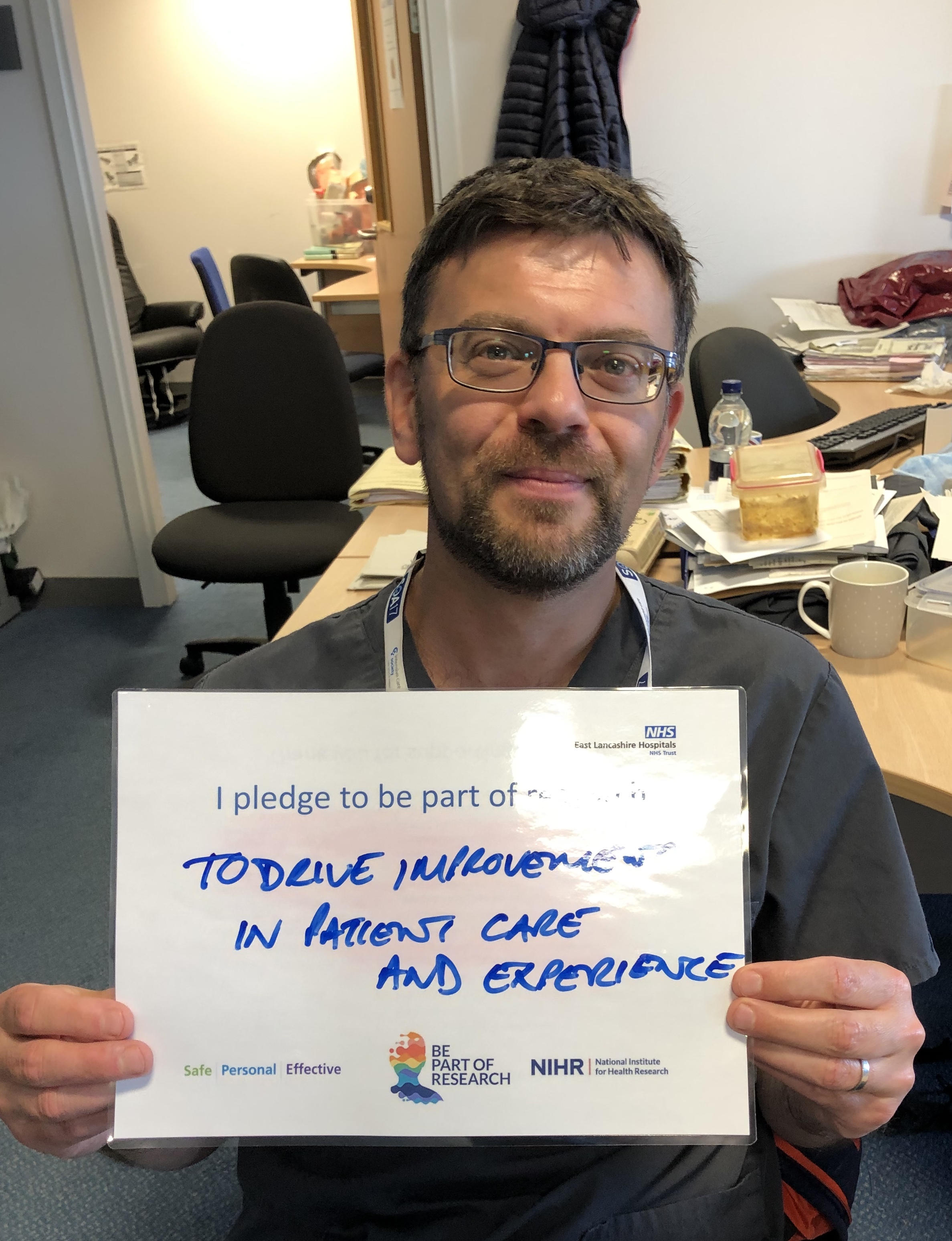 Colleagues from across the Trust made pledges to support research, whilst the research team visited wards and departments, delivering information about clinical research.
We'd like to thank everyone who supported the activities, and helped to raise awareness of the clinical research taking place across East Lancashire and the UK.
Encouraging everyone to 'Be Part of Research'

A new resource has been launched by the NIHR encouraging everyone to Be Part of Research.
Clinical research is about finding new knowledge that can lead to changes in treatments and care, but this important work isn't possible without the support of patients and members of the public.
There are many ways to get involved:
Highlighting women's health research
Our Communications Team produced two fascinating podcasts exploring the world of women's health research, in collaboration with our research partners at the University of Central Lancashire.
Women's Health Research Podcast Part 1