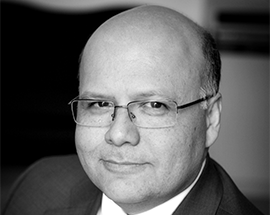 Mr Shahid Islam is a consultant urological surgeon and divisional director for Surgical and Anaesthetics Services at East Lancashire Hospitals NHS Trust.
Following completion of specialist training in the North West, he was appointed as a consultant urological surgeon at Burnley General Teaching Hospital in 2005. The urology services across East Lancashire merged the following year and a urology unit was created with 6 Consultants. All inpatient activity was then moved to the newly built Royal Blackburn Teaching Hospital.
Mr Islam was the clinical director of urology services from April 2013 to June 2017.
Following that tenure he was appointed as the divisional director of Surgical and Anaesthetics services, an appointment he holds to date.
Education
MB BS 1988
FRCSEd 1995
FRCSGlasg 1995
FRCSUrol. 2004
Specialist interests
All aspects of general urology
Functional urology (incontinence)
Re-construction
National Responsibilities
Executive committee member for British Association of Urological Surgeons, Section of Female Urology 2013-2015
Teaching
Mr Islam has regularly been involved in teaching junior doctors over the last decade. He has been a member of North West Urology Training Committee. He served as the educational lead for urology in the directorate from 2007 to 2013. He has been a panel member for the 'National Selection Committee for Urology Specialist Trainees' between 2010 and 2013. He was voted 'Trainer of the Year' in 2014 by the North West urology trainees
Awards
ELHT STAR awards 2016 in the category of Quality, Innovation and Research for his work to introduce the Da Vinci ® surgical robot to the trust.
National audits
He submits regularly to BAUS registry for operations done for Stress urinary incontinence.
Contact
Medical PA – Christine Rogers
Phone - 01282 805403
Email - Christine.rogers@elht.nhs.uk