Guidance for relatives of patients
From 6am on Thursday 26 March 2020, East Lancashire Hospitals NHS Trust is no longer allowing visitors except for the following reasons:
the patient is receiving end-of-life care
the patient is a child or neonate. The visitor must be a parent or designated carer only
they are a partner or birthing partner accompanying a woman in labour.
to support someone with a mental health issue such as dementia, a learning disability or autism where not being present would cause the patient to be distressed
Visitors should observe strict 2 metre social distancing principles whilst moving around the hospital wear face coverings and adhere to strict handwashing on entering and leaving the hospital and clinical areas.
We appreciate this is a very troubling time for everyone, and so we ask for your help in respecting these rules which are an essential safety measure.
From Monday 15 June, face coverings must be worn by patients, visitors and staff while in our hospitals. Our visitor restrictions have not changed.
---
COVID-19 Family Liaison Service
If you require support contacting the ward or unit your loved one is staying on, our Family Liaison Service can help.
Call 01254 735435, Monday to Friday, 8am - 4pm
(An answerphone is available for out of hours messaging)
Appointment guidance
If you are well and have a planned appointment at the hospital, please attend as normal unless we contact you. Our outpatient clinics are still currently going ahead, so unless you have been contacted by the hospital, either by text, phone or letter, please attend your hospital appointment.
However, some appointments, where it is clinically appropriate, are being changed to telephone appointments, so that you do not have to travel to the hospital. If your appointment has been changed, we will send you a text to your mobile phone, so please keep checking. If you don't have a mobile phone, you will be contacted by either telephone or letter. If you are not contacted, please attend as planned.
If your appointment is for a clinical procedure, such as an operation, endoscopy, or scan, these too are going ahead as planned. You will only be contacted if it has been cancelled.
When it is necessary to attend the hospital, the patient should attend alone, where this may not be possible, please contact the ward or department in advance to discuss appropriate arrangements.
Your health, safety and wellbeing, that of our patients, communities and staff across the organisation remain our absolute priority.
Thank you for your continued support and understanding at this challenging time.
From Monday 15 June, face coverings must be worn by patients, visitors and staff while in our hospitals. Our appointment guidance have not changed.
Face coverings in hospital buildings
The use of face coverings when coming to hospital
People infected with COVID-19 can have very mild or no respiratory symptoms (asymptomatic) and can transmit the virus to others without being aware of it.
In line with recent recommendations from the World Health Organisation, we are introducing new measures at to keep visitors, patients, and staff safe.
From Monday 15 June 2020 you will need to wear a face covering when you come to hospital as a visitor or outpatient.
What does this mean for me?
If you are coming to hospital as a visitor or for planned outpatient care, you will be required to put on a surgical mask on entry to the hospital (or healthcare setting). The surgical mask should remain in place covering your mouth and nose for duration of your attendance in the hospital (or healthcare setting). This is for your safety and the safety of other patients and staff.
If you are wearing a cloth-based or homemade face covering you will be required to change to a surgical mask on entry to the hospital (or healthcare setting). This is in line with national NHS guidance as a surgical mask provides greater protection than cloth-based or homemade face covering.
Face coverings can be cloth and/or homemade and made be worn in other environments outside of hospital or healthcare settings. Advice on how to wear and make one can be found on the government website. Face coverings worn as part of religious beliefs or cultural practice are also acceptable, providing they are not loose and cover the mouth and nose.
Please note that our visitor guidance has not changed.
For some people, wearing a surgical mask or face covering may be difficult due to physical or mental health conditions. In these instances, other measures will be considered on a case by case basis, for example timed appointments and being seen immediately on arrival.
If you are a deaf or hearing impaired, our staff have a range of communication options to ensure that they can communicate effectively with you. This might include the use of clear masks where possible, as well as visual aids such as writing things down, speech to text apps and sign language.
All visitors will be expected to comply with existing social distancing and hand hygiene measures in addition to wearing a surgical mask while in the hospital (or healthcare setting).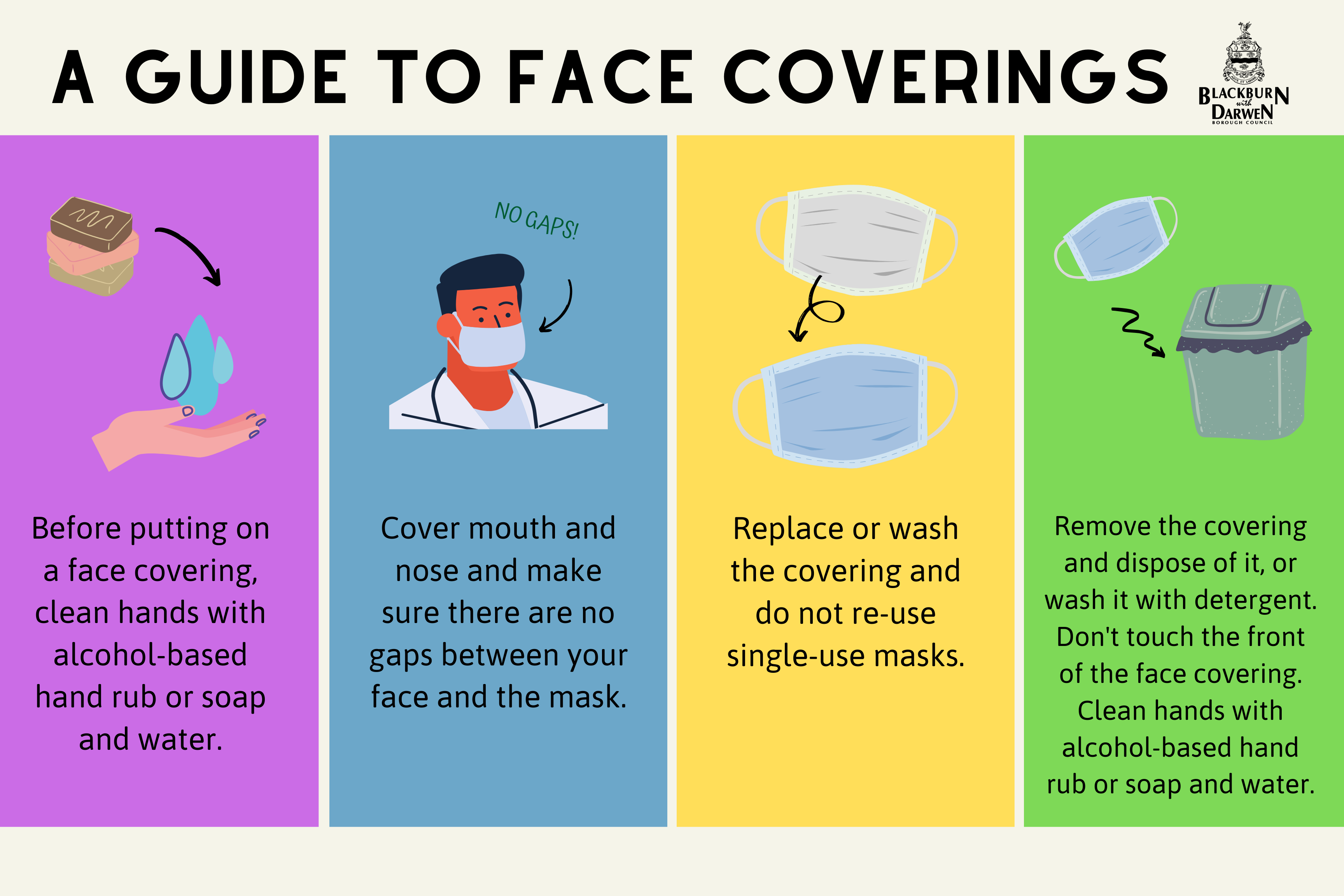 Dropping off essential belongings to patients
Where possible, we encourage you to stay home and avoid any unnecessary travel.
We have a belonging drop off service; this allows relatives to drop-off essentials for patients, without entering the hospital.
Relatives are asked to pack a small bag only with essentials such as toiletries, underwear, and clothing (see list below), in a closed plastic bag, labelled with the patient's name and ward. They will be placed into one our patient property bags before being taken to the ward. Staff will not take responsibility for the valuable items once given to the patient.
| | | |
| --- | --- | --- |
| · Toiletries | · Underwear | · Dentures |
| · Toothpaste | · Footwear | · Hearing Aid |
| · Glasses | · Nightwear | · Clothing/footwear |
| · Mobile phone and charger | · Puzzle books | · iPad/Tablet |
Patients assessed to have an impaired mind or brain (Learning Disability, Autism, Dementia or Delirium), will be allowed therapeutic objects such as memory books, music cd's, photos of loved ones, dolls, soft toys etc.; where it is identified they would benefit from having these items.
| | | |
| --- | --- | --- |
| · Memory books | · Music cd's | · Twiddle muffs (dementia) |
| · Photos of loved ones | · Dolls | · Soft toys / animals |
Valuables (cash, jewellery, etc.) will not be accepted. Only pre-packed and sealed food (not home made or hot food) can be accepted.
Bags need to be taken to the designated drop off of area for the specific hospital site (see below). Once the member of staff has shown acknowledgement, the bag should then be left on the ground, and the relative should step away to ensure social distancing. The member of staff will then collect the bag and check the contents against your list before preparing the bag for delivery. You will be provided with a copy of the pro-forma listing the patient's property.
It is essential that no relative using this service enters the hospital.
We cannot take any requests from households with any COVID-19 suspected or actual symptoms.
Only leave belongings with our volunteers, and never leave any bags unattended please. The Trust cannot accept responsibility for personal belongings left outside the stated drop- off open hours.
For more information or if you have any queries, please call our Family Liaison Service on 01254 735435, seven days a week, 8am – 6pm – (An answerphone is available for out of hours messaging).
---
Drop off points and operating times:
Royal Blackburn Teaching Hospital - Level 2 Entrance (near the Grane Restaurant).
8:30pm - 3pm, Monday - Friday (excluding Bank Holidays)
Burnley General Teaching Hospital - Reception Desk, Phase 5, Area 7
10am - 1pm, Monday - Friday (excluding Bank Holidays)
Pendle Community Hospital - Main Reception space
10am - 1pm, Monday - Friday (excluding Bank Holidays)
Clitheroe Community Hospital - Reception Desk, Chatburn Road
10am - 1pm, Monday - Friday (excluding Bank Holidays)
Accrington Victoria Community Hospital - No inpatients currently
From Monday 15 June, face coverings must be worn by anyone dropping off essential belongings for patients.
Shuttle bus service
The shuttle bus service for staff and patients will continue to run on the existing timetable, with an additional two buses every day. One at 7:15am from Burnley General Teaching Hospital, and one at 7:30pm from Royal Blackburn Teaching Hospital.
Please note that the shuttle buses will seat fewer people as their are social distancing rules in place.
The service will run as normal on the upcoming Bank Holidays.
From Monday 15 June, face coverings must be worn by everyone using the shuttle bus service.
Temporary changes to maternity services
ELMS GP Out of Hours services on the Burnley General Hospital site temporarily suspended
East Lancashire Medical Services (ELMS GP Out of Hours services) delivered on the Burnley General Hospital site
In the current unprecedented conditions, and as we do everything we can to address the impact of the COVID-19 virus, a decision has been made to TEMPORARILY suspend the GP Out of Hours service delivered from the Burnley General Hospital Urgent Care Centre with effect from 6.30pm on 1 April 2020, until further notice.
This decision has been taken to safeguard both the public and NHS employees and support the current national policy of suppressing the spread of COVID-19 by moving to telephone and video triage and treatment thereby minimising face to face contacts. As a consequence of the COVID-19 response, over recent weeks the number of GP Out of Hours face to face GP appointments has reduced dramatically.
During the period of this temporary suspension, ELMS will redeploy their staff and clinical resources across Pennine Lancashire to where it is best placed to support patient needs. There are significant increases in GP Out of Hours resources due to COVID-19, but the service needs to be delivered in a different way, with an increase in telephone and video consultations and home visits undertaken by exception, where face to face assessment is absolutely necessary.
Patients referred to the service via 111 will be offered the same level of access via initial remote advice, care and support with face to face consultations still available at Blackburn and via home visits, by exception, following clinical assessment.
We realise that this may cause some inconvenience, but we are sure that our staff, patients and community understand that we are in unprecedented times and we need to react to the needs of our population and ensure that appropriate action is taken to supress the spread of COVID-19.
Please note, this notice only affects the GP Out of Hours service at Burnley General Hospital on a temporary basis and a full service will be reinstated as soon as possible.
All other services at Burnley General Hospital, including the Urgent Care Centre, are not affected by these changes.
Testing for COVID-19
To find out more about the testing programme for Covid-19 across the region, please follow this link https://www.healthierlsc.co.uk/CoronavirusTesting. You can also use this testing matrix to learn more about how to access testing for Covid-19 and about the NHS Test and Trace service.
Important information about the coronavirus (COVID-19)
Coronavirus (COVID-19) is a new respiratory illness that has not previously been seen in humans. Older people, and people with pre-existing medical conditions (such as asthma, diabetes, heart disease) appear to be more vulnerable to becoming severely ill with the virus.
If you develop symptoms (a high temperature OR a new continuous cough OR a loss or change to your sense of smell OR taste) the Government advice is to stay at home for ten days and to book or order a test. For more information on testing, CLICK HERE. If you live with other people, they also should stay at home for 14 days from the day the first person got symptoms.
If you do not improve, or if your symptoms worsen, seek advice from NHS 111 online. If you have a routine hospital appointment during your period of self-isolation, let us know and we will rearrange your appointment for you.
We'd like to assure our patients and the public that our staff are both practised and skilled in treating patients with infectious diseases and we are confident in our procedures for dealing with this virus. The Trust has robust infection control measures in place and is following the most up to date national guidance and procedures at all times.
Please familiarise yourself with the symptoms and risk factors for Coronavirus on the NHS website:
Updated guidance for places of worship