Published on:
7 June 2019
---
Hi All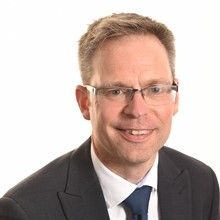 Welcome to this week's blog. I'm Martin Hodgson, Director of Service Development for the Trust and I'm delighted to be the 'guest blogger' this week whilst Damian is taking a well-earned break!
Whilst I have been covering Damian's duties this week, I have to admit it has been a bit of a whirlwind! So, I am going to start by talking about one the great parts of the job and that was having the privilege of presenting this Month's Employee of the Month Award.
The award for June was presented to one of Estates and Facilities Engineers, Sean Greenwood. Sean was nominated to receive the award for his hard work and dedication following a recent water leak at Clitheroe Hospital. Sean wasted no time getting to the source of the problem, even though it was 3am. He then proceeded to work tirelessly to fix the leak and clean up the water. Sean's quick response ensured that not a single appointment was affected as a result of the leak. Truly amazing! Our estates staff are crucial to the running of the organisation and their contribution towards providing Safe, Personal and Effective care to our patients does not go unnoticed. Thank you again Sean.
It's not new to say that our fabulous volunteers make an invaluable contribution to ELHT. We all know these unsung heroes play a pivotal role in our Trust in a number of ways. This week we have been honouring them as part of national 'Volunteers Week'. Volunteers have been making a difference at the Trust for over 40 years. We currently have over 250 selfless individuals who each help to make a difference to or patients and provide support to our staff too. There have been a number of stands across the Trust all showcasing the work volunteers do. You can see more about the activities of the week here.
We cannot thank our volunteers enough and we are currently recruiting a number of volunteers to help out our charity ELHT&Me. So, if you have a few hours to spare then why not really help us make a difference? Find out more here.
Now the Muslim holy period of Ramadan has ended, I want to extend a sincere thank you to all our staff who continued to work to their best in spite of the fact that they were fasting for long hours. You have all shown a real strength of which I am immensely proud and I hope you all enjoyed the Eid celebrations.
Did you know leg and foot problems are one of the biggest health challenges of our time? To recognise and raise awareness of this troubling fact we have been supporting the first ever national 'Legs Matter' campaign this week. A team of staff have taken to the road to host a number of stands across East Lancashire and Blackburn with Darwen to raise awareness of a number of lower limb issues including wounds, swelling, skin problems and lymphoedema. You can see the pictures here.
This week I attended the board meeting of the Healthier Lancashire and South Cumbria programme. There were some extremely interesting discussions with key partner organisations about how we work more effectively to provide better care to the population of Lancashire and South Cumbria. There was particular emphasis on primary care, mental health, pathology and stroke services. You can find out more about the Healthier Lancashire and South Cumbria programme by visiting the website.
You may have noticed around the Trust, or maybe on the television, the national 16 cancers quit smoking campaign launched on Monday. I joined the Well Team to help promote this. There was a great deal of activity, including another 'Big Butt Clean Up'. We also toured the site to locate 'hot spots' where people are congregating to smoke. We are dedicated to making our sites 100% smokefree and I thank you all for doing whatever you can to support us on this.
I would like to take this opportunity to mention the 'Getting It Right First Time' (GIRFT) programme. This is a national programme designed to improve the quality of care within the NHS by reducing unnecessary variations in service delivery.
By sharing best practice and encouraging consistency between trusts, GIRFT identifies changes that will help improve care and patient outcomes, as well as delivering efficiencies such as the reduction of unnecessary procedures. Importantly, GIRFT is led by frontline clinicians who are expert in the areas they are reviewing. This week I attended our Cardiology department's 'Getting It Right First Time' (GIRFT) meeting. This was a really positive meeting which helped me to recognise just how busy the Department is. The members of the GIRFT group were impressed by the well organised, cohesive and enthusiastic cardiology team! Acting Medical Director, Dr Ian Stanley attended the same meeting for Critical Care and found it to be equally as positive. Ian commented that areas had been identified where we can use our Therapy teams to make a significant impact on that department.
Finally, it would be remiss of me not to mention the poignant anniversary , rightly monopolising the news this week. 75 years have passed since the infamous 'D-Day landings'. It was the largest seaborne invasion in history and tragically up to 20,000 men lost their lives in that battle alone. It is hard to believe that only a few short years after those terrible times, our amazing NHS was born!
A number of our staff are either veterans, or are serving within the Reserve Forces who may have seen active duty. In 2017, ELHT very proudly received a Silver Award under the Ministry of Defence Employer Recognition Scheme. This award, along with signing the armed forces covenant, shows how high our level of commitment is to supporting our armed forces, veterans and their families.
We thank all those who took part in the D-Day landings and who continue to serve us today.
Thank you for reading.
Martin