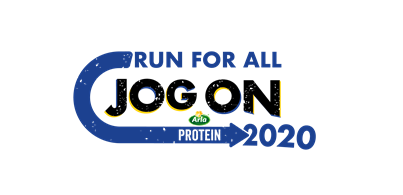 We may not have been able to meet on the start line as we'd hoped, or cheered and high fived entrants as they crossed the finish line, but together we can say JOG ON 2020 and start 2021 as we mean to go on.
Run for All have the ultimate virtual challenge to finish the year with. The best bit? You decide the distance!
Whether you run or walk the distance on your own, or socially distanced with running buddies, together we can tell 2020 to Jog On - a message that we can all get behind!
The challenge will run from 26 December 2020 to 6 January 2021.
How it works - Entrants can select to complete 5K, 10K, 13.1miles (a half-marathon), 26.2miles (a marathon) or an Ultra Marathon as part of the challenge. Whether you run the distance all at once, or across the 12 days, the decision is yours!
What's included -Entry will be £11, and the first entrants to register will have the chance of receiving limited edition Jog On 2020 water bottles.
All entrants will receive a downloadable race bib to personalise as well as have the chance to purchase a Jog On 2020 technical t-shirt. Once they have submitted their evidence of the completed run they will receive a branded Jog On 2020 Buff in the post.
Submitting your run - Towards the end of the 12 days all entrants will receive an email to an online form to submit their evidence of their completed run. Entrants must do this to receive their branded buff in the post.
Registration is open! Click here.
The closing date for entries to the event will be 9am Sunday 27 December 2020.
Fundraising
Select ELHT&Me as your chosen charity to to support as part of the challenge. Set up your fundraising page or make a donation here.