Published on:
2 December 2019
---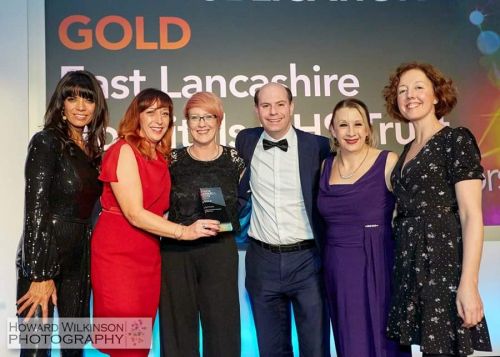 Pictured: Representatives from ELHT's Communications and Quality and Safety teams receiving their award from TV presenter Jenny Powell.
The Communications and Quality and Safety teams at East Lancashire Hospitals NHS Trust celebrated winning GOLD at the Chartered Institute of Public Relations (CIPR) North West Pride awards this weekend.
The team was one of only three to be shortlisted and were recognised in the 'Best Publication' category for their 'Share2Care – Human Factors' magazine which centres around patient safety.
The judges' comments stated: "This publication deals with a very tricky subject but reminds us of the critical human impact one can have. The design was clean and engaging, but it was the critical core content that the judges felt made this publication stand out. It's easy for an organisation to say it will learn from its mistakes – this publication makes that a reality."
On collecting the award, Christine Hughes, Executive Director of Communications and Engagement for the Trust, said:
"It's wonderful that our 'Share2Care' publication has been recognised in this way. The safety of our patients is our priority. This magazine is part of a series of high-quality publications on patient safety and learning lessons that we produce internally. Working in partnership with the subject experts in the Quality and Safety team, each edition focusses on a different aspect of patient care and showcases the great initiatives that are undertaken by the Trust.
"Just to be shortlisted for a CIPR award is a huge achievement. To win the top prize is incredible."
Organised by the Chartered Institute for Public Relations, the PRide awards is an annual ceremony that showcases the very best of public relations and communications within each region.