Published on:
25 June 2019
---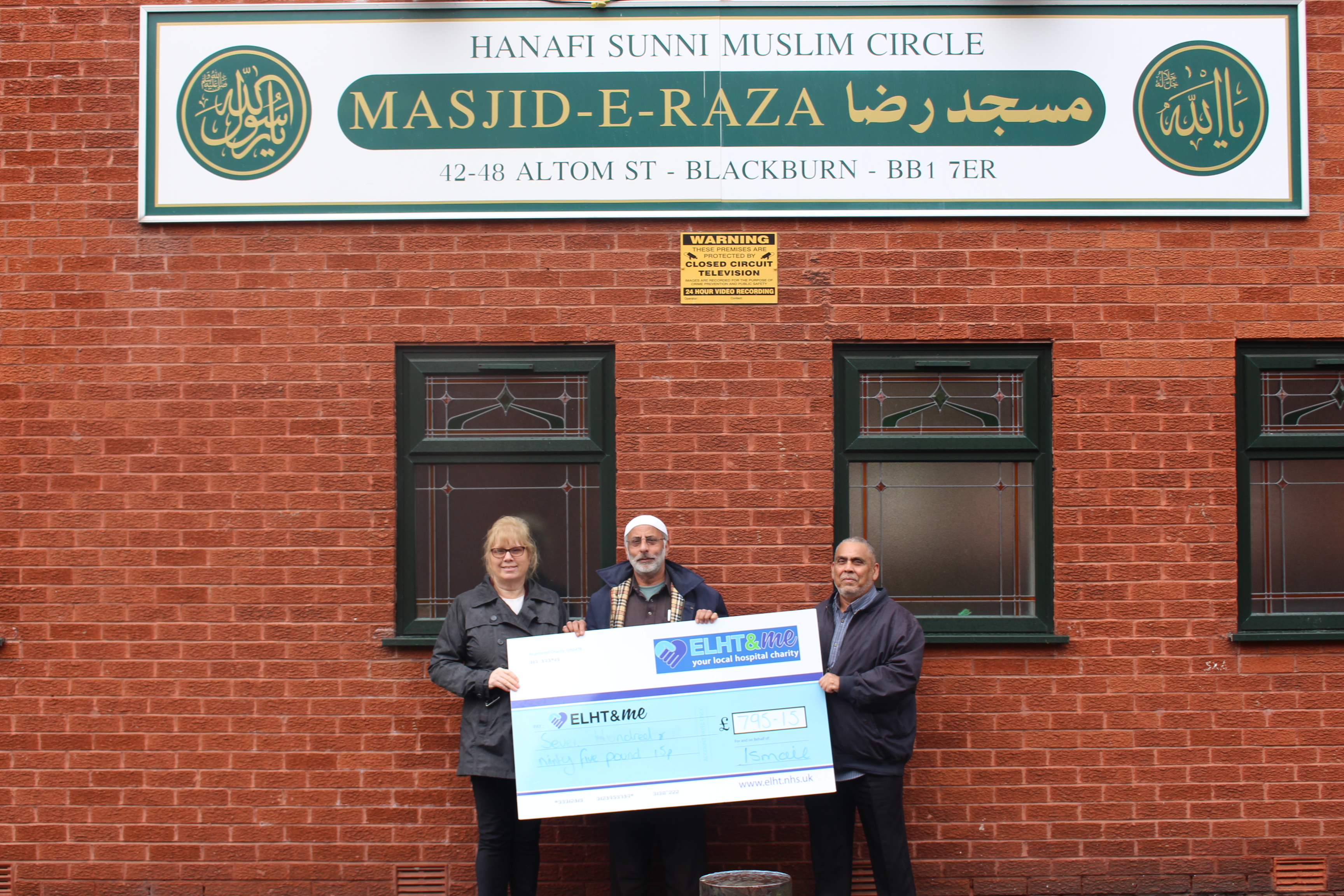 Pictured: Denise Gee, ELHT&Me Fundraising Manager, accepts a cheque from Mr Ismail Natha and a mosque representative.
Worshippers at the Masjid-e-Raza, Altom Street, Blackburn, raised £765 over two collection days in the Muslim holy month of Ramadan.
Volunteers from the mosque filled collection tins with donations at Jumu'ah prayers, the special Friday prayer performed at midday in every mosque. The funds will be donated to ELHT&Me, the official charity of East Lancashire Hospitals NHS Trust, specifically to improve patient experience in cancer services.
Mr Ismail Natha, the mosque volunteer who coordinated the collection, said: "I wanted to raise the money for cancer services because it's a department that has a special personal meaning to me. We're really pleased with how much we've raised and we hope it will make a difference to patients having cancer treatment."
Mr Abdul, President of Masjid-e-Raza, said: "The mosque values the work of the hospital, and caring for the sick is an important part of our religion, which is why we did this collection. We are proud to support ELHT&Me".
Denise Gee, Fundraising Manager at ELHT&Me, said: "I'd like to thank Mr Natha, Mr Abdul and the mosque congregation for their generosity.
"The charity encourages fundraising from all parts of the East Lancashire community. Everyone will use NHS services at some point in their life, regardless of their faith, ethnicity or cultural background.
"I would encourage any individual, family, community group or company who is interested in raising funds for us, or making a donation, to get in touch by calling 01254 732140, or emailing fundraising@elht.nhs.uk."