Published on:
14 November 2019
---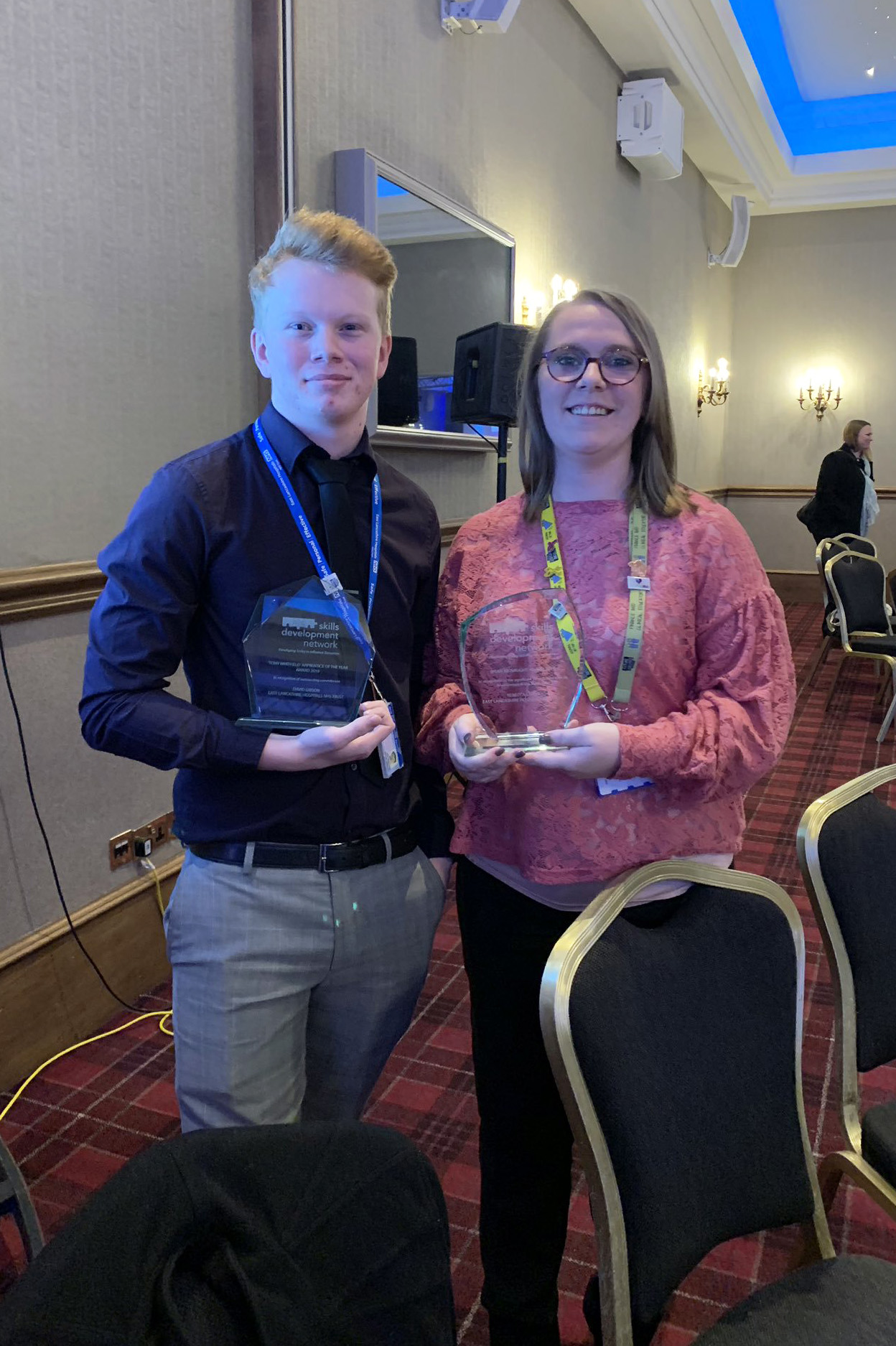 Pictured: Skills Development Award winners David Gibson and Rebecca Dixon
The team whose dedication helps keep the finances of East Lancashire Hospitals (ELHT) on track has seen their hard work add up to not one but two regional awards.
ELHT finance team members returned with a double success from the recent North West Skills Development Network (SDN) Awards in Chester.
Management Accountant Rebecca Dixon was proud to receive the 'Brian McNaught Award' for significant contribution to skills development, while her colleague Finance Officer David Gibson claimed the Tony Whitfield 'Apprenticeship of the Year' Award.
ELHT Director of Finance, Michelle Brown, said: "I am so proud of Rebecca, David and the whole finance team for their superb achievements.
"Our team works hard to maintain financial sustainability for the NHS and achieve the ultimate goal of maximum funds available to invest into patient services and facilities."
"The Skills Development Network is of great benefit in helping us raise standards and build leadership skills, while these awards represent consistent hard work and innovation by the ELHT Finance team."
Rebecca's award was well-deserved recognition for going above and beyond after she set up and ran bespoke training for clinical colleagues and co-ordinated work experience and Princes Trust placements for young people with the Trust's Finance Department.
Finance Officer David started work with Training 2000 back in 2016 on the Accounting Traineeship programme. Determined to pursue a career in accountancy but, unable to obtain an apprenticeship, David took full advantage of this opportunity to develop and build his accounting skills and knowledge to achieve the AAT level 2 Certificate in Accounting.
Award judges commended David for "displaying the admirable personal characteristic of determination and a 'never say die' attitude to overcome difficulties and achieve both the accounting level 3 apprenticeship qualification and the level 3 AAT Diploma in Accounting."