Published on:
17 May 2019
---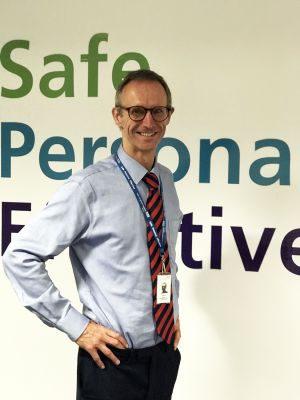 Hi everyone. Damian here, and I hope you've had a good week.
What fantastic weather we've had – reminds me of the school days when we could sit outside on the grass for lessons….no such luck now I'm afraid!
The first of the "Royal Garden Parties" took place this week on Wednesday, and it is great that six ELHT staff have been invited to these garden parties, after having been nominated by the Trust. Emma Cooke, the Trust's Senior Communications Manager is one colleague who went, and those of you who know Emma will know she is a great ambassador for us. I know she had a wonderful time. Here she is:
Earlier this week I chaired the Lancashire and South Cumbria Cancer Assembly, and a packed room at the Dunkenhalgh Hotel heard from lots of people involved in transforming cancer services across the County. Locally, there's a campaign called "Let's Talk Cancer", spearheaded by one of our local GPs Dr Neil Smith, and it aims to take away the stigma about cancer by encouraging people to talk about it more with family and friends, and thus encourage more uptake of all the screening tests that are available. Screening tests can genuinely save lives.
Following their success at Royal Blackburn Teaching Hospital in March, the Well Team completed a Big Butt Clean Up at Burnley General Teaching Hospital this week. Volunteers joined the Well Team. They collected a bag of "butts" weighing a whopping 6 kilograms – that's equivalent to about three bags of sugar….uggghh ! The volunteers also talked to patients that smoked and were able to offer their support and guidance – Good job! I want to personally thank The Well Team, our volunteers and anybody else who was involved for their valiant efforts to maintaining our Smokefree sites.
Other activities this week include my meeting today with local and national leads from NHS England and Lancashire Care Foundation Trust in a workshop looking at how we can improve the experience of patients attending A+E with mental health problems, which a really important area for us to get right. Lots of improvements are planned over the coming weeks and months.
Great news that Councillor Anne Kelly, who was announced as the new Mayor of Burnley earlier this week, has chosen our hospital charity, ELHT&Me, as the Mayor's chosen charity for 2019-20! I am thrilled that Councillor Kelly has chosen to support us during her first mayoral term, and all funds raised by the Mayor and her fundraising team will be spent specifically at Burnley General Teaching Hospital and used to improve our cancer diagnostic facilities. This will make a huge impact on the local community, benefitting our patients and also the staff who provide that care. I'd like to thank her for her support of our charity, our patients and our staff and I know that her efforts can help us maintain our excellent level of care for the people of Burnley now, and in years to come.
I was clear when I took up this challenge that there are three priorities for me, and they are improving the patient experience, improving staff wellbeing, and meeting our NHS targets.
Creating a supportive staff culture - so that ELHT continues to be a great place to work – is so important. Happy staff lead to happy patients – you'll know that as well as I do….And although we achieved our best ever staff survey results, I'm keen to make further investment to support staff. We are going to increase investment in staff initiatives over the coming year. One example is that from June we will start rolling out access to on-site complimentary therapies. Another is the extra support and training programme we will put in place for managers. We know that immediate manager support is key for staff health and wellbeing . Whilst we scored 'above average satisfaction' with our immediate manager support in the recent national survey, we want to keep and develop the very best managers in the country. It's long been recognised that the support we get from our immediate manager is one of the biggest influences on our health and wellbeing at work. It's our ongoing drive towards compassionate and inclusive leadership.
The best patient care happens when staff feel cared for, trusted, valued, and empowered to make changes and improvements in their area of work.
Thank you to you all for doing great work this week.
Have a great weekend.