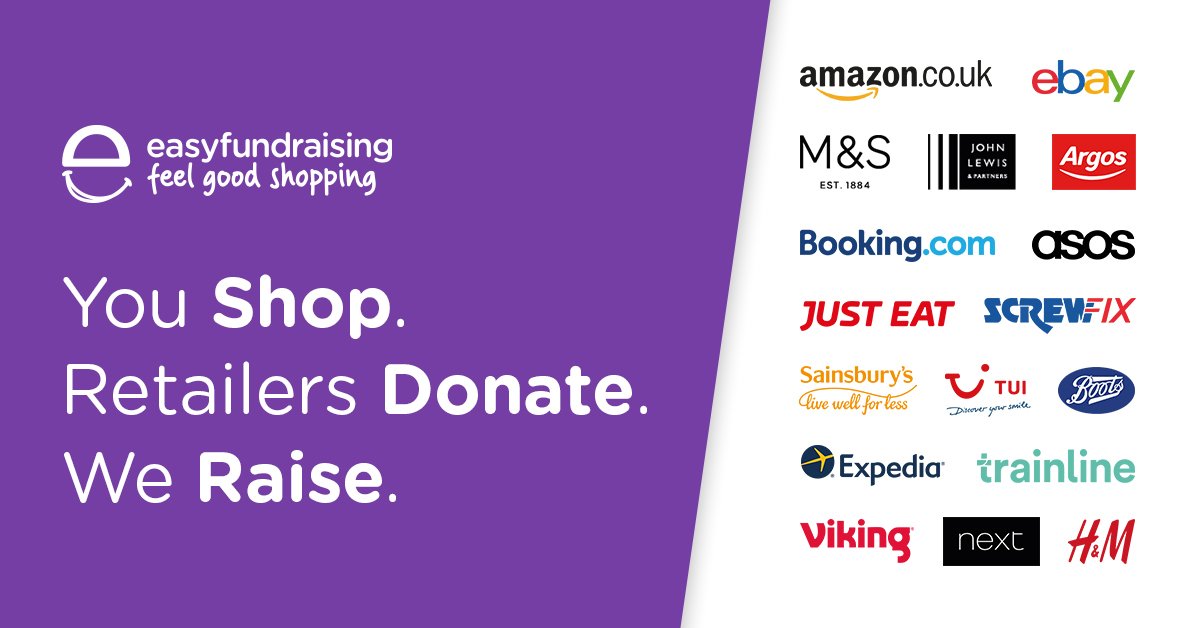 You can donate to ELHT&Me while shopping online at no extra cost to you!
Use easyfundraising to shop with over 3,600 retailers including Amazon, Argos, John Lewis, ASOS, Booking.com, eBay, Boden, and M&S. Every time you shop, you'll raise a free donation for ELHT&Me every time, it's that easy!
Getting started
Watch the video below for instructions on how to set up your easyfundraising account.
Click here to get started - remember to chose 'ELHT&Me' as your chosen charity!
Where you can shop
Shop with over 3,700 retailers, including eBay, John Lewis, Argos, Booking.com, amazon.co.uk, Sainsbury's, Aviva and Viking.
Over 752 fashion retailers, including M&S, Debenhams, Next, ASOS, Clarks and Gap.
Over 119 insurance retailers, including price comparison sites like Confused.com and Comparethemarket.com.
Over 117 food and drink retailers, including ASDA, Tesco, Morrisons, Ocado and Waitrose.
Over 262 travel retailers, such as TUI, Travelodge, Thomas Cook, Laterooms.com.
Donation reminders
Never miss a free donation with the Donation Reminder!
If you think you might forget to shop each time via easyfundraising, then the Donation Reminder will help you. It provides a little reminder every time you shop online on a site eligible for easyfundraising.
Over 150,000 supporters use it

They raise on average five times more

It's free with no annoying ads
The easyfundraising app
If you do your shopping on your mobile or tablet, get the free easyfundraising app on iOS and you'll never miss a donation!
Business purchases
Business purchases are a great way to boost fundraising.
You can buy all of your office supplies, computing, ink and toner, computing equipment and business travel such as train tickets and hotel stays, whilst raising a donation! Shop at biggest retailers including Viking, Staples, Apple, Dell, Inkfactory, Travelodge, and Booking.com.
Travel purchases
Booking travel is a great way to raise big donations! Supporters who book their holidays and travel through easyfundraising raise up to three times more for their cause!
You can book with all the most trusted holidays companies, such as First Choice, Tui, Expedia, Thomas Cook, Virgin Atlantic, Booking.com, Jet2 and Flybe, and raise big donations each time you travel.
And it's not just holidays, flights and hotels – you can raise donations on car hire, travel insurance, airport parking, foreign currency, and even by buying your holiday wardrobe too!
Big purchases
You can raise up to £200, simply by using easyfundraising to help you switch your insurance or gas supplier or upgrade your mobile contract!
easyfundraising partners with the biggest and most trusted insurance and utility suppliers, so you can switch with confidence and when you do, your new supplier will send us a free donation as a thank you - at no extra cost to you.
For example, right now when you switch, Aviva will donate up to £30, More Than up to £22.50, Vodafone and EE up to £35, SKY up to £52.50 and British Gas up £25, to name just a few. You can get yourself a better deal in the process too!