East Lancashire Hospitals NHS Trust is committed to providing safe, personal and effective care for all people who use our hospital and community health services.
People with Dementia and those affected by the condition access all of our services and it is a priority in the Trust for care to be designed, developed and improved.
Butterfly Scheme
The Butterfly Scheme allows people whose memory is permanently affected by dementia to make this clear to hospital staff and provides staff with a simple, practical strategy for meeting their needs.
In use on many of our medicine for older people and rehabilitation wards, the Butterfly Scheme ensures patients receive more effective and appropriate care, reducing their stress levels and increasing their safety and well-being.
Personalised documents
At ELHT we advocate the use of a personalised document to support the care of people living with a diagnosis of dementia , cognitive impairment or temporary cognitive issues such as delirium. The nationally recognised "This is Me" or locally available "REACH out to Me" helps us to provide a person centred and holistic approach to care.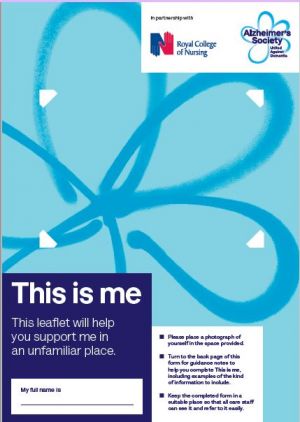 Hospital car parking
Carers of hospital patients living with dementia who attend the Royal Blackburn Teaching Hospital, Clitheroe, Pendle and Accrington Community Hospitals regularly receive a concession on car parking charges.
Ask Ward staff to sign it
Take the Form to the Car Parking office located close to the Main Reception
John's Campaign
Johns Campaign is a national campaign calling for the families and carers of people with dementia to have the same rights as the parents of sick children, and be allowed to remain with them in hospital for as many hours as they are needed, and as they are able to give.
Several wards at ELHT support John's Campaign and we are working to extend this support to all Medicine for Older People wards to improve our delivery of 1:1 care and our partnership working with the Carers Welcome initiative.
Dementia Friend Champions
A Dementia Friends Champion or link person is a member of staff who encourages others to make a positive difference to people under our care and living with dementia. They do this by giving information about the personal impact of dementia, and what they can do to help they uphold the Trust initiatives and recommendations of the National Dementia Strategy and Trust strategy and work towards the Dementia Friendly Hospital Charter recommendations.
Up to January 2018, more than 2,987 of our employees have become Dementia Friends by attending an awareness session.
Delirium
At ELHT we understand the importance of recognising the symptoms of delirium.
People living with dementia are at an increased risk of developing delirium, therefore we now have a Delirium Bundle which helps us to diagnose and implement treatment in a safe and timely way to provide effective care. We have a Delirium advice leaflet for patients and relatives to give basic information about what delirium is and how to spot the signs and symptoms , and prevent further episodes.
Twiddle Muffs
These are kindly donated by the public and are facilitated by Hyndburn Homewise Memory Matters service which is a local charitable organisation, for carers and families to access for their loved ones living with dementia at all Reception Desks in all 5 Hospital sites.
These are single person use , so gifted by families to the person with dementia.
You can find a pattern here.
Useful documents