Published on:
9 October 2020
---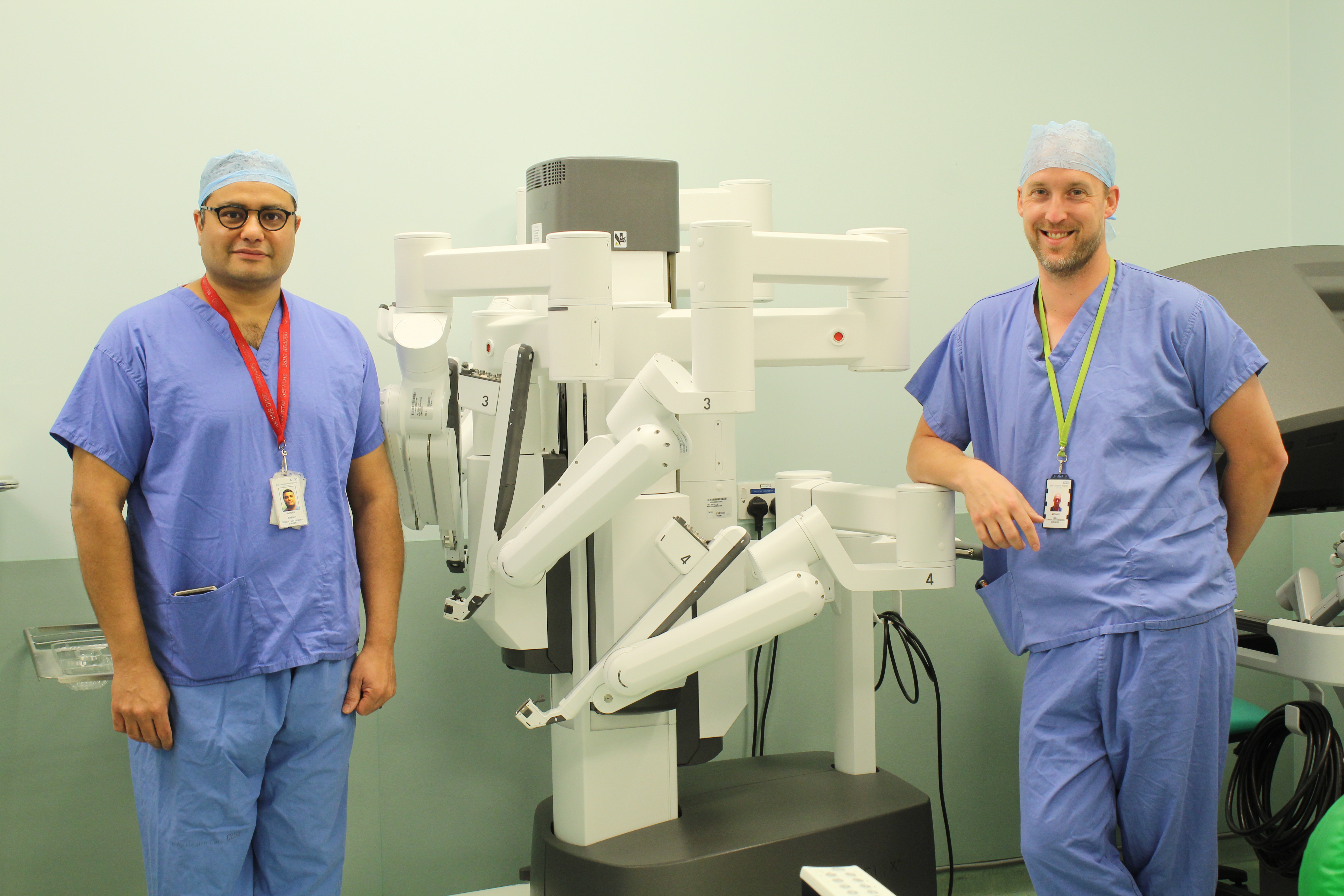 Pictured: Mr Adnan Sheikh and Mr Micheal Gill with the surgical robot
Leading Surgeons at East Lancashire Hospitals NHS Trust have performed the first robotic surgery of its kind in the North of England.
Colorectal Surgeons, Mr Adnan Sheikh and Mr Michael Gill explained how even during the COVID-19 pandemic, they were able to perform ground-breaking surgery. The patient who underwent the surgery wishes to remain anonymous, but has consented to the Trust sharing their story.
Mr Sheikh begins: "Our patient, a 61 year old female, had advanced pelvic cancer in the bowel. In normal circumstances, we remove such cancers using the robot by taking out the segment of the bowel with the tumour in it. However, this patient also had a defect in her diaphragm (the muscle which separates the abdominal organs from those of the chest), known as a diaphragmatic hernia. Scans had revealed that a third of her large intestine was within the hernia and was lodged next to her heart and lungs
"This type of hernia is very rare. It was the robotic technology that enabled Mr Gill and myself to not only remove the tumour from her pelvis, but correct the diaphragmatic hernia and remove the bowel from her chest. This was done simultaneously in one theatre session lasting 8.5 hours. We believe we are the first to have carried out this type of complicated operation in the North of England, as no others have been reported.
Mr Gill continues: "Using the robot makes the procedure significantly less-invasive; which vastly reduced the patients stay in hospital from an anticipated 14 days to just six. Our patient only needed to spend 14 hours on the Critical Care unit immediately after surgery, when normally this would be significantly longer.
"The use of the robot enabled us to carry out her cancer operation and hernia repair at the same time, which wouldn't have been possible without its use.
"Finally, our patient had also been struggling with her breathing for some time which had become difficult due to the pressure on her chest from the large intestine being pushed upwards. This was alleviated almost immediately once the procedure was complete.
The relieved and recovered patient commented: "This surgery has not only saved my life but completely transformed it. This could have been an extremely long and painful recovery process, but by using the robot, this was dramatically reduced.
"Mr Sheikh and Mr Gill have given me the ability to live my life normally again, and for that I will be eternally grateful. I am also extremely proud to be the subject of this exciting new surgical development. I simply cannot find the words to thank the team at ELHT enough."