Published on:
11 December 2017
---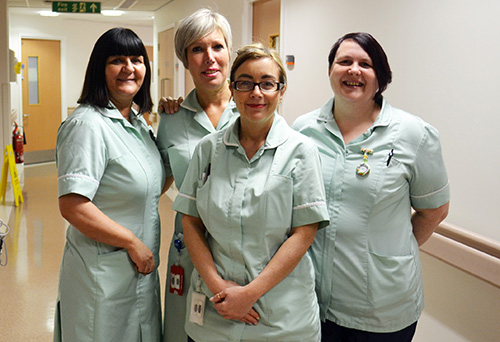 East Lancashire Hospitals NHS Trust's (ELHT) reputation as one of the region's leading NHS maternity services has received a further boost following news that three staff/teams are shortlisted for the prestigious Royal College of Midwifery (RCM) Annual Midwifery Awards 2018.
Widely respected as the 'Oscars' of the maternity and midwifery industry, East Lancashire is the only trust in the UK to be shortlisted in three categories in the RCM Annual Midwifery Awards 2018.
Midwife and Baby Friendly Team Co-ordinator Sue Henry is shortlisted in the JOHNSON'S® Award for Excellence in Maternity Care for the work in achieving UNICEF BFI sustainability standards. Earlier this year, ELHT became the first Trust in the UK to achieve UNICEF UK Baby Friendly 'gold' accreditation.
The Trust's Postnatal Maternity Support Workers have been shortlisted in the RCM Maternity Support Worker of the Year category.
And Maternity Support Worker Keelie Barrett is also shortlisted for the Thompsons Members' Champion Award, an exclusive category open only to high achieving Royal College of Midwifery representatives.
Gill Walton, Chief Executive of the Royal College of Midwives, said: "The standard of entries has been extremely high so to get this far is an outstanding achievement. It shows how much innovation is going on in our maternity services, and how hard midwives, maternity support workers and the wider maternity team are working to deliver the safest and best possible care. I wish Sue, Keelie and the whole team the best of luck at the awards ceremony in March."
Angela O'Toole, Head of Midwifery at ELHT, said: "Every day our maternity staff work tirelessly caring for our patients and their loved ones, and this well-deserved recognition from the RCM is excellent news at the end of another 12 months of achievement."
Keelie, Sue and the Maternity Support Workers are hoping to bring success to East Lancashire when the RCM Annual Midwifery Awards (@MidwivesRCM) are presented at The Brewery in London on 6 March 2018.
East Lancashire Hospitals has a successful history of achievement at the RCM Awards, having been named Maternity Service of the Year as recently as 2014.