Published on:
1 June 2021
---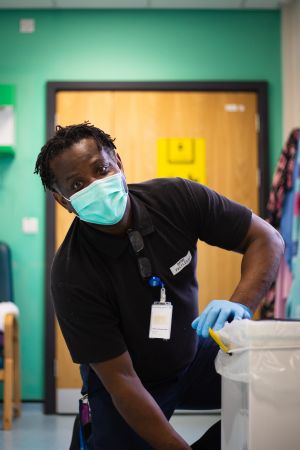 A well-known singer today spoke of how a second job designed to prop up his income during the Covid-19 pandemic helped him to discover a love of healthcare and a role he now doesn't want to leave.
At the start of the pandemic, singer-songwriter Stephen Bayliss, 52, suddenly found himself unable to do the job he has lived, breathed and loved for nearly 35 years. As hospitality venues across Lancashire closed and his work stopped, this meant he needed to find a new source of income. But he also wanted to make himself useful.
Knowing that Stephen always puts people above all else, a friend suggested he applied to be a Patient Services Assistant (PSA) at East Lancashire Hospitals NHS Trust (ELHT). When he searched for more information, he found that this was the perfect solution for him and began his journey into ELHT life in September last year.
He says: "Throughout the years, I have turned my hand to a range of roles - from tree surgeon and car valeter to car salesman. But now I feel I have found my true calling in the NHS. I really love my job and when people ask me what I do, I tell them I am a cleaner and a singer. My colleagues come and ask me to sing to the patients when they are feeling down and to be able to do that and see their spirits lift is incredible.
"I have been singing for over 30 years making a really good living. But here you see life from a totally different perspective. Just being with people, holding their hands and finding out about them is amazing. It is so nourishing to have that interaction with people.
"I thoroughly enjoy coming to work and I truly believe I am destined to be doing this job. I never realised how much seeing people in pain and how quickly their lives can change would move me. I am looking forward to continuing working for ELHT even when I am able to perform again at the end of the month by managing my shifts alongside my shows. I never want to leave!"
Are you inspired by Stephen's story? Do you have a passion for putting people first? Maybe this could be the job that you have been looking for. You can find out more about how you could become a Patient Services Assistant or other roles available at ELHT by going to www.elht.nhs.uk/working-us
For anyone who wants to know more about Stephen's performances, you can go to his website www.stephenbayliss.co.uk