Published on:
10 October 2020
---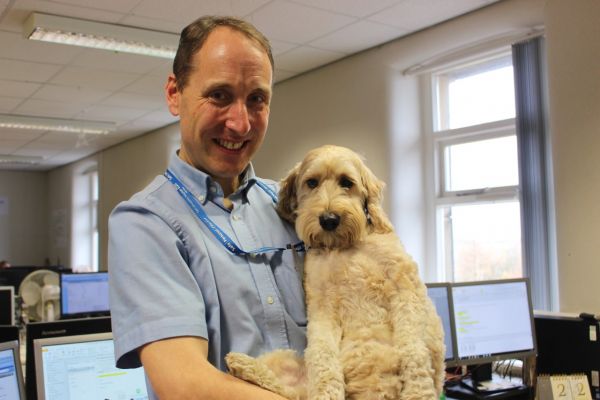 Pictured above: David Anderson, Chaplain, with therapy dog Jasper, and below: Sue Chapman, Deputy Divisional Director of Estates and Facilities.
Two employees from East Lancashire Hospitals NHS Trust have been awarded with a British Empire Medal in the Queen's Birthday Honours List for their dedication and hard-work during the COVID-19 pandemic.
David Anderson, Chaplain at the Trust, and Sue Chapman, Deputy Divisional Director of Estates and Facilities, were awarded with the prestigious medal after going above and beyond to help both patients and staff through the challenging months.
David was awarded the BEM after helping boost staff morale through his 'Conversations with Jasper' sessions with therapy dog Jasper, as well as spearheading the creation of 'Oasis' rooms on the hospital site so staff can take time away from the ward to reflect on their experiences, with some staff describing these rooms as a lifeline during the last few months. Another critical service David and the Chaplaincy Team provided was to help patients stay connected with loved ones through Zoom calls. This was instrumental in helping to reduce patients' feelings of loneliness and isolation when relatives could not physically be there and provided some reassurance for families and carers. The service was invaluable for relatives during the end of life care for their loved ones.
Upon hearing the news of his award, David said:
"It is a wonderful privilege to be included within the Queen's Honours List and very humbling. I am proud to part of an amazing team here at ELHT and work alongside so many incredible colleagues. I hope that this award can be seen as a tribute to every member of staff, who have equally given everything over the last few months and will do so again in the coming weeks and months."
Andrew Horsfall, Chaplaincy and Bereavement Care Manager, David's manager, said
"During COVID-19 David has adapted his working priorities to meet the needs of patients, relatives and staff in ways which have been invaluable; he has made a difference to so many. He has given priority to situations which have sometimes seemed the most hopeless and has brought profound change to so many people's experiences of life in an acute hospital setting in this pandemic."
The importance of staff welfare has also been recognised with the BEM awarded to Sue Chapman for helping staff across the Trust, and responding to the ever-changing demands within a large acute hospital. Sue worked with a local business to bring in a fleet of motor homes for extra accommodation to keep staff and their family protected from the risks of COVID-19; directed over 100 ward movements and upgrades, and helped the catering facility prepare and deliver over 3000 meals for staff each day. These are just a few projects Sue was involved in to ensure the organisation was in the best position to continue to provide safe, personal and effective care for all our patients.
Sue said:
"I am extremely honoured to have been awarded the British Empire Medal and very surprised that out of over 9,000 ELHT staff; I have been chosen to receive the honour as every single ELHT employee deserves this recognition.
I am especially proud to be part of the Estates and Facilities team; our ancillary staff have demonstrated how resilient, professional and caring they are and have responded immediately and effectively during this challenging time. This honour is a reflection of them and how important it is to be part of a team that has the patient at the heart of everything they do, so I would like to thank them all for being ELHT heroes."
Jimmy Maguire, Director of Estates and Facilities, who nominated Sue for the award, said:
"Sue has used her 30 plus years' experience wisely during the pandemic. Her bravery to innovate before, during, and I'm sure after, the pandemic has ensured that the Trust's vital services have been sustained and supported."
Her Majesty's Birthday Honours List has been published later than usual this year to reflect the extraordinary efforts of many of those involved in the response to the pandemic. BEM recipients will be presented with their medal by their Lord-Lieutenant at a local ceremony and also invited to attend a Royal Garden Party.
Kevin McGee, Chief Executive at the Trust, was delighted to hear the news. He said:
"David and Sue are worthy recipients of this prestigious award and on behalf of the Trust Board, I'd like to congratulate them on being honoured in this way. They are both the epitome of our Trust values and our commitment to safe, personal and effective care. They have gone above and beyond during the pandemic positively impacting both patients and staff. David and Sue's work has been invaluable across the Trust, and has made a big difference to many people's lives."