Published on:
14 December 2017
---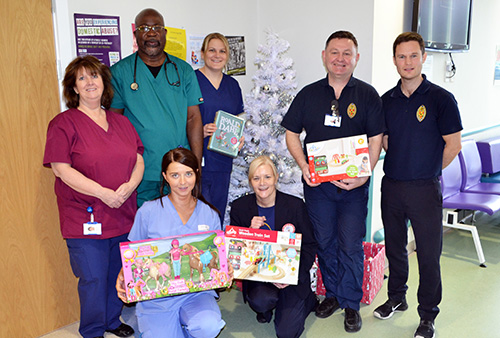 Pictured: (standing) Housekeeper Jacqui Bolton, Emergency Medicine Dr Blaise Tambo, Sister Becki Slater and physiotherapists John Sinclair and Rob McAfee, (front) Staff Nurse Hannah Brierley and Tesco Community Champion Billie-Jean Horne
Customers and staff at the Tesco Extra store in Burnley have delivered a festive extravaganza of toys and gifts to bring smiles to the faces of young patients at Burnley General Hospital.
Tesco Burnley customers donated over five pallets of much-needed toys that will keep sick and injured youngsters occupied in the hospital's Urgent Care Centre, as well as being shared with community organisations including Women's Refuge, East Lancashire Hospice, Salvation Army and the Chai Centre, Brierfield.
Tesco Community Champion Billie-Jean Horne, said: "Each December our customers and staff come up trumps and generously donate hundreds of toys to help local children in need at Christmas."
Staff at the Urgent Care Centre, which opened in 2012 and treats approximately 1,000 patients a week, were delighted to receive the toy donation handed over by Tesco Burnley Community Champion, Billie-Jean Horne.
Urgent Care Centre Sister Becki Slater: said: "It is never fun to be injured or need hospital treatment, especially at this time of the year, so this donation will make the world of difference to children in the Urgent Care Centre."
"We are really grateful to the customers and staff at Tesco for their generosity in donating these toys. The kids love them, and the staff find them really useful to build a rapport with children - and their parents."