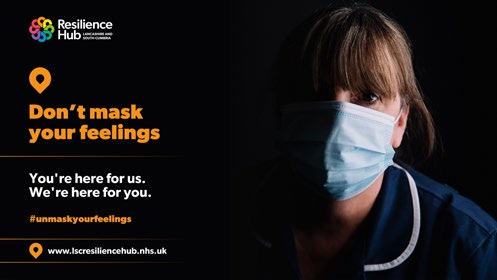 Public sector workers across Lancashire and South Cumbria are being urged to 'check in' on how they're feeling ahead of World Mental Health Day. A new 'you're here for us, we're here for you' campaign has launched across the area to highlight the support available through the Lancashire and South Cumbria Resilience Hub.
The Resilience Hub launched at the outset of the pandemic to support public sector workers and their immediate families with the psychological impact of Covid-19. And the team behind it is urging those working in the emergency services, health and social care, teachers, council workers, public sector volunteers and their families to use their online self-assessment tool to 'check in' on how they're doing. It takes just 15 minutes to complete and can be followed-up with a confidential self-referral to the Resilience Hub team if extra support is needed.
Gita Bhutani, Director for Psychological Professions at Lancashire and South Cumbria NHS Foundation Trust and lead for the Resilience Hub, said: "There's absolutely no doubt that the pandemic has had an impact on us all – especially those who have been working on the frontline throughout.
"The Resilience Hub can offer support to all public sector workers in Lancashire and South Cumbria who are struggling to deal with depression, anxiety, post-traumatic stress or feel like they're having a bit of a wobble because of the pandemic. "We've already been able to help lots of people – those who have found it really hard to continue with their jobs, those who have struggled to adapt to new ways or working and sadly, those who have lost loved ones.
"This is a difficult time for many and we hope the new campaign will help more people to know that help is available and it's really easy to access."
As part of the new campaign, featuring public sector workers from across the area, the Resilience Hub website has been relaunched. On there, you can find out more information about the support available as well as tips on supporting others struggling with their mental health.
Gita added: 'We have had a fantastic uptake of the service. Currently, around 75% of those we have supported work in the NHS. "Through this new campaign, we want to make sure all public sector workers know that help is available and that we can be their first port of call if they need psychological support.
"We hear it a lot, but it really is ok not to be ok and also really easy to access support if you need it. "If you're struggling and work in the public sector in Lancashire and South Cumbria, please do check in using the self-assessment tool – you're here for us, we're here for you.' As well as supporting individuals, the Resilience Hub, can also support teams.
For More Information
Visit: www.lscresiliencehub.nhs.uk
Ring: 01772 520228
Email: lschub@lscft.nhs.uk