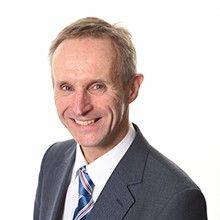 What a great pleasure it is to write this blog J and the first thing I have to do is say a big "thank you" to Kevin for all the work and leadership he's given to the Trust. He has really made a huge impact and those are big shoes to fill…!
As I'm writing this, I'm struck by the diversity of all the activity that goes on through our Trust. Within the last hour or so, a baby will have been born, a patient will have been admitted to intensive care; another will be on the operating table; a district nurse has visited a frail patient at home; a patient with diabetes has had their eyes screened; a sick child has been assessed; speech therapy given to a stroke patient; numerous wounds will have been dressed; medicines given; blood pressures checked… in fact, the list goes on and on. And during that same hour, another six or more blue-light ambulances arrived at our front door.
It's all in a day's work for the dedicated staff of the Trust - but of course it's a new experience and a frightening one for our patients. It's complex and sometimes risky work that you do; sometimes challenging and almost always rewarding but we can only all do it by acting together. ELHT is a team, a family.
It's a great privilege for me to offer my leadership over the next six months. I'm going to concentrate our efforts as an Executive team on three important areas: First and foremost – improving the patients' experience. They are why we chose our jobs. Secondly, supporting you, our staff – you are the reason we do so well. I want to improve recruitment, getting more staff working differently and developing new roles for staff, while recognising the hard work everybody is doing. And finally, delivering the NHS Standards. Achieving targets has never been harder than it is now. We used to always routinely achieve the 18 week outpatient treatment targets, all our surgery targets and our cancer targets perfectly. It is not always the case now, but delivering these standards is actually a proven way of improving the service to patients.
Safe, personal and effective care is our mission, our "reason to be". Let's make sure we do this consistently. I want our transformation team this year to get your ideas - from you - for innovation and improvement, and implement them. Over the coming months, I want to get out and about as much as possible so I can meet you and hear your views. They are the most important!
Our annual STAR awards ceremony takes place tonight at the Dunkenhalgh Hotel in Hyndburn. We will see some outstanding examples of staff going above and beyond the call of duty and I wish all shortlisted staff and teams the best of luck!! The standard of nominations was unbelievable this year so a huge well done to you all! If you haven't got a ticket, don't despair. You can follow all the action via our social media accounts where we are covering the proceedings with a Facebook live stream!
Oh, I have now set up a new twitter account please so do follow me @DrDamianRiley.
Finally, I want to say a really big thank you to Kate Quinn, Nazir Makda and their colleagues for a brilliant, first ever 'Festival of Inclusion'. Designed to embrace all cultures and hobbies, this week has seen a wide range of stalls, classes and demonstrations across all our sites. I hope those who managed to participate were able take something away that they didn't know already, or experienced something new.
So, thanks for reading this, and thanks for your ongoing dedication!
Best wishes, Damian