Published on:
6 July 2018
---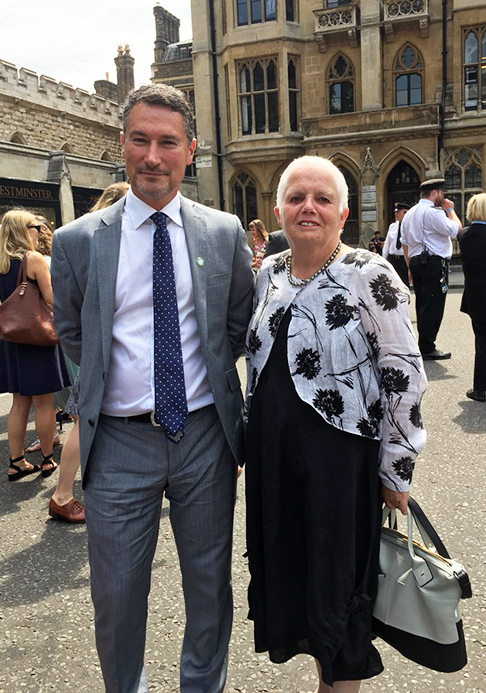 Hello everyone, on the eve of yet another totally tropical weekend! What's going on here, sunshine at the weekend!! Again!
What a fabulous week this has been celebrating NHS70. For me, it has been very poignant. I have always been extremely proud to work in the NHS and feel privileged to have the position I do, at the head of this really great organisation. I am thankful to all of my colleagues and to every single member of staff for the wonderful work you do, every day. We've had some lovely events taking place across the organisation that have totally reflected the heart and spirit of ELHT, and our ongoing commitment to our patients, our community and our colleagues. The lead up to NHS70 has been a long one, but I feel that 5th July – the anniversary day itself – was quite moving. Chairman, Prof Eileen Fairhurst, Director of Nursing, Chris Pearson and I attended a beautiful service in Westminster Abbey, held in tribute to all of us in the NHS and it reminded me just how fundamental the NHS is to the fabric of our society; and how beloved it is to the people. Closer to home there have been a host of local events across the trust, marking this special anniversary. Parties in wards, birth centres, offices and (thanks to the glorious weather) gardens have been joyous. I myself was a guest and Chris Pearson's 'extreme tea party' on Tuesday and this was enormous fun. Around 75 people reflecting (and recognising) all grades of nurses, midwives and AHPs; representing all divisions in the Trust; and reflecting on the past, present and future workforce, had a great time singing along with local opera singer, Sean Ruane. We also took delivery of a spectacular cake, designed as a tribute to all the people who make up the NHS. This has since gone on display in the Grane Restaurant. While the cake will be shared by our night staff, the artistry will be preserved and kept for posterity. Channel 4 TV filmed this party, so watch this space for more information on broadcast.
Many thanks to everyone who donated cakes to our charity ELHT&Me which made so many NHS70 tea parties so enjoyable. It was definitely a cake themed day, with local bakers donating cakes across the Trust and staff contributing their own culinary creations as well.
I hope you saw the special 'throwback' newsletter issued by the communications team. This was fascinating and reminded me of our heritage and the fact the NHS has been providing excellent healthcare for the people of East Lancashire for seven decades – do take a look if you haven't seen it already. And for once, the ubiquitous media coverage of the NHS was exclusively positive! What a refreshing change that was. In fact, the media coverage and dedication to our NHS this week has itself been humbling, again, reflecting the place this fantastic, enormous and important organisation holds in the hearts of the British public. Our local radio stations, BBC Radio Lancashire and 2BR both broadcast from Burnley and Blackburn hospitals, and they were totally inspired by the stories they heard and the people they met. As ever, members of our staff were happy to be interviewed and contribute to the programmes, telling their stories and sharing their professionalism. There's a gallery of pictures here.
NHS70 doesn't stop here; there is more to come and celebrations and activities will continue for a little while yet. But this week, exactly 70 years after the NHS as we know it – free at the point of delivery, for everyone – was established, I pay humble thanks to every single of member of staff. As I have said many times before (and I'm sure will say many time in the future) You Are Awesome and your commitment to Safe, Personal and Effective Care is greatly appreciated by the community we serve.
Enjoy the weekend.