Published on:
5 July 2019
---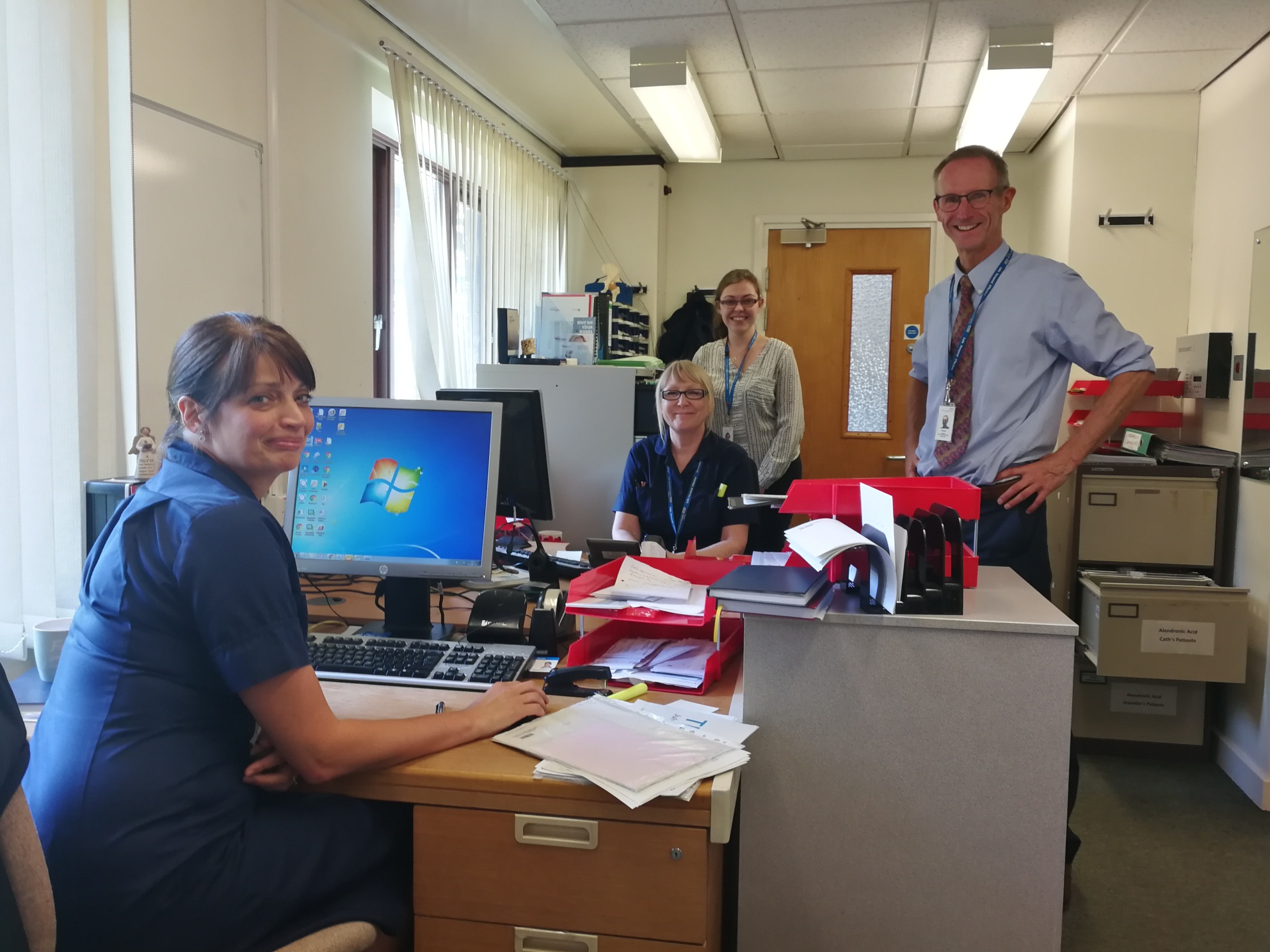 Hi All
Another week draws to a close. We've had good weather these past few days and I hope you've all had a chance to enjoy the long summer evenings…
I met some truly fantastic teams this week!
While at Pendle Community Hospital, I met Diane from our Steady On! Team and learnt about the important work she does in reducing falls. In particular, I discovered what a 'ferrule' is – it's the rubber end piece on a walking stick or walking frame – and how important it is that these are changed at intervals when they wear down. I didn't realise it's so common for these to wear down and what a risk it is when this happens. Diane's work with care home managers and their staff is very effective in reducing falls and hospital admissions.
Also at Pendle, I met our Fracture Liaison service to learn more about the great work they do – following up elderly people who have attended ED or our Fracture clinic, and making sure these patients get assessed for osteoporosis and get the all-important medication to help prevent another fracture.
I went to Reedyford Ward and met Natalie, the very enthusiastic ward manager, who showed me how the ward has used SAFER and "red to green" days methodology to drive better care for their patients, and allowing more patients to get home sooner. In fact the length of stay for patients on Reedyford ward is now on average 5 days shorter than it used to be.
All this fits nicely with increasing use of "Home First" as a way of helping people get back home as soon as possible, and is central to the work of our community division going forward.
Kevin McGee continues his chief executive role at Blackpool – there has been a pause in their recruitment of a permanent chief executive and so Kevin has been asked to cover both Trusts for several months beyond the initially proposed month of October.
Going back to the better weather and we now have a new way to enjoy the summer with the launch of Afternoon Tea in the Grane Restaurant. High quality sandwiches, tasty cakes and a beautiful view of the distant Pennine hills – it's an ideal treat for patients, relatives and staff. Great idea from our Catering Team!
Following the success of the recent Big NHS Walk, our trust charity ELHT&Me has just launched its latest fundraising challenge - a unique eight-mile sponsored walk across the tidal sands and mudflats of Morecambe Bay, on Saturday 7 September. Places are strictly limited, so please sign up as soon as possible.
I want to wish the NHS a very happy 71st birthday today (5 July) as our beloved national institution enters its eighth decade. Thanks to you and many other dedicated members of staff, the NHS is one of the top health services on the planet. Indeed, the 2014 Commonwealth Fund Report ranked the UK health service No.1 for overall provision, for quality of care, patient access and efficiency. Long may it continue!
Well, believe it or not, I received positive feedback about my joke in last week's blog. So it's only right that we have another… here's this week's joke:
What's blue but not heavy? Answer: Light blue.
Best wishes,
Damian