The East Lancashire Hospitals NHS Trust Ophthalmology Department has launched a fundraising campaign to raise £36,000 to buy a state-of-the-art slit lamp to improve the diagnosis of eye illnesses. This campaign will run until World Sight Day on 8 October.
What is Slit Lamp Imaging?
Slit Lamp Imaging is the photography of the structures of the eye with a specially designed horizontally mounted microscope. The slitlamp can be used to isolate structures in the eye, and gives much better and detailed photographs - improving the speed and accuracry of diagnoses.
How can you get involved?
- Donate to our JustGiving page, or start a JustGiving fundraiser - justgiving.com/fundraising/EastLancs-Ophthalmology
- Text 'IMAGER(donation amount)' to 70085 to donate via text. So texting 'IMAGER10' will donate £10.
---
Ophthalmology Colouring Competition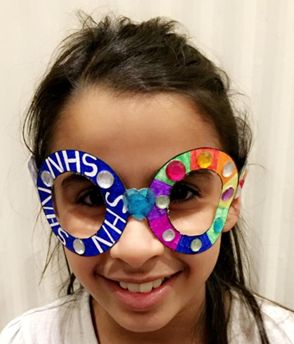 We invited children accross East Lancashire to take part in our competition to design their own glasses! The winner was Aasiya, aged 10, who created this fantastic NHS-themed design!
If you'd like to make your own glasses, you can still download the glasses template here.