Sunday 26 September 2021
Celebrate the NHS and join the Big NHS Walk, a day to remember, centred around a healthy challenge whilst raising funds for your local hospitals NHS charity.
Fun, fresh air, family and friends. Turn the walk into a fun day out and register with your friends, family or colleagues. On your return, enjoy an alfresco afternoon tea box, provided by our award-winning catering team.
A new route for 2021 starts from Park View Offices at Royal Blackburn Teaching Hospital and takes us across some of the most scenic countryside in the area. Footpaths and bridleways bring stunning views, rural farmland, a typical English country pub and parts of a historic village heritage trail.
Anyone who cannot make the new date will not have to miss out as the charity has launched a virtual walk, starting from 19 June and running until the walk event. Virtual walkers, who can be any age (under 16's to be accompanied by an adult), can complete eight miles at their own pace anywhere they like, in one go or spread out over different dates.
#TheBigNHSWalk Information
When and where
Event Date: Sunday 26 September 2021
Sign In: 9:15 a.m. to 10:15 a.m.
Walk Start: 10:30 a.m. promptly
Start Point
We are not starting from the main hospital entrance. Signing in and the start of the walk takes place at our Park View site, opposite KFC on Haslingden Road, BB2 3HH.
Take your time, enjoy the day. The event is fully supported until 3.30 p.m.
Costs and registration
Registration:
£20 (+ Eventbrite fee)
Uniquely designed finishers medal
An alfresco afternoon tea box provided by our award-winning catering team
Clearly marked scenic route with event marshals
Regular checkpoints with water re-supply
First-aid assistance
Toilet facilities; start, halfway and finish
A full walkers pack, with information and fundraising resources
Virtual Walker £10(+Eventbrite fee)
Uniquely designed finishers medal
Certificate
Fundraising pack
Please check the 'Eligibility and Terms' tab for additional information, before signing up.
A walkers information pack is provided as part of the registration process.
Dog Registration:
£2
Dogs are welcome on the walk, so why not bring along your four-legged friend? They can even help raise funds by collecting sponsorship too!
Online registration will remain open until the day of the event. You can also register on the day in person, between 9:15 - 10:15 a.m. Please arrive as early as possible if you are registering on the day.
The route

Immerse yourself in a 8 mile walk across some of the most scenic parts of our area, with far-reaching countryside views.
Your walk will head out of Blackburn and cross above the M65 by a lesser-known footbridge at the back of the Industrial Estate on Blackamoor Road.
We then cross farmland using a variety of footpaths and bridleways before reaching Belthorn Road. This takes us up into the historic village of Belthorn where the community-run Dog Inn, a pretty example of an old English country pub, provides a rest stop and a water resupply point.
The next part of our walk incorporates some of the Belthorn Heritage Trail before heading out into the open countryside again.
Footpaths take us on a loop across Belthorn Ridge, providing spectacular views in all directions, before heading back towards Blackburn.

Transport arrangements
The event starts and finishes at Park View Offices and there will be free parking all day.
Food and drink
Bottled water will be available at two pit stops along the route.
Don't forget to pack provisions to keep you going during the walk! Along the route, there will be food and refreshments available for purchase at the Dog Inn, 61 Belthorn Rd, Belthorn, Oswaldtwistle, Blackburn BB1 2NN.
An alfresco afternoon tea box provided by our award-winning catering team is given to all walkers on return.
If you have any allergies or dietary requirements please specify them when you sign up.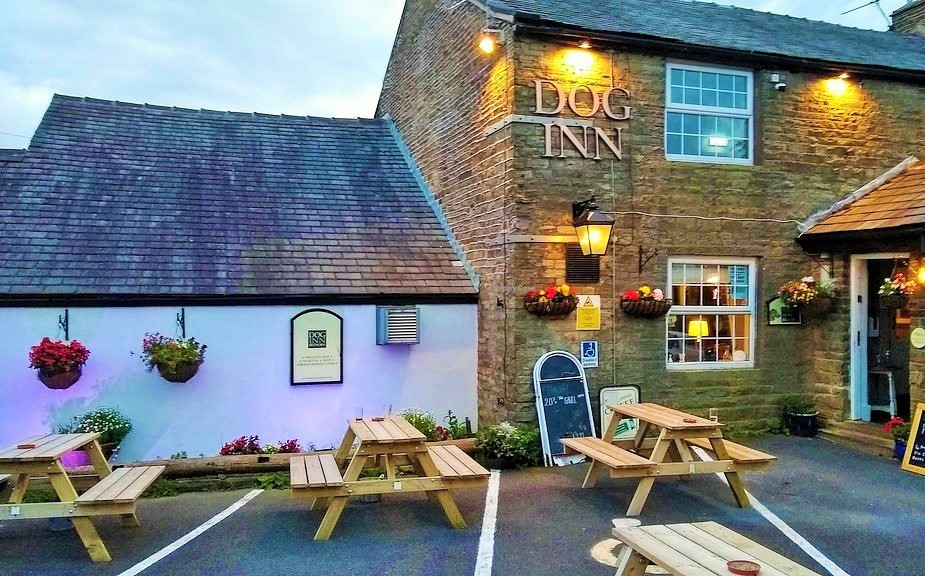 Clothing, suncream and footwear
We're asking all of our walkers to "wear it blue" on the day, in honour of our amazing NHS. Whether it's just your t-shirt or your full outfit, we can't wait to watch a sea of blue walkers following the route!
You can even make things really exciting by wearing facepaint, a wig or cool sunglasses - just make sure your outfit is suitable for all weathers and is comfortable to walk in!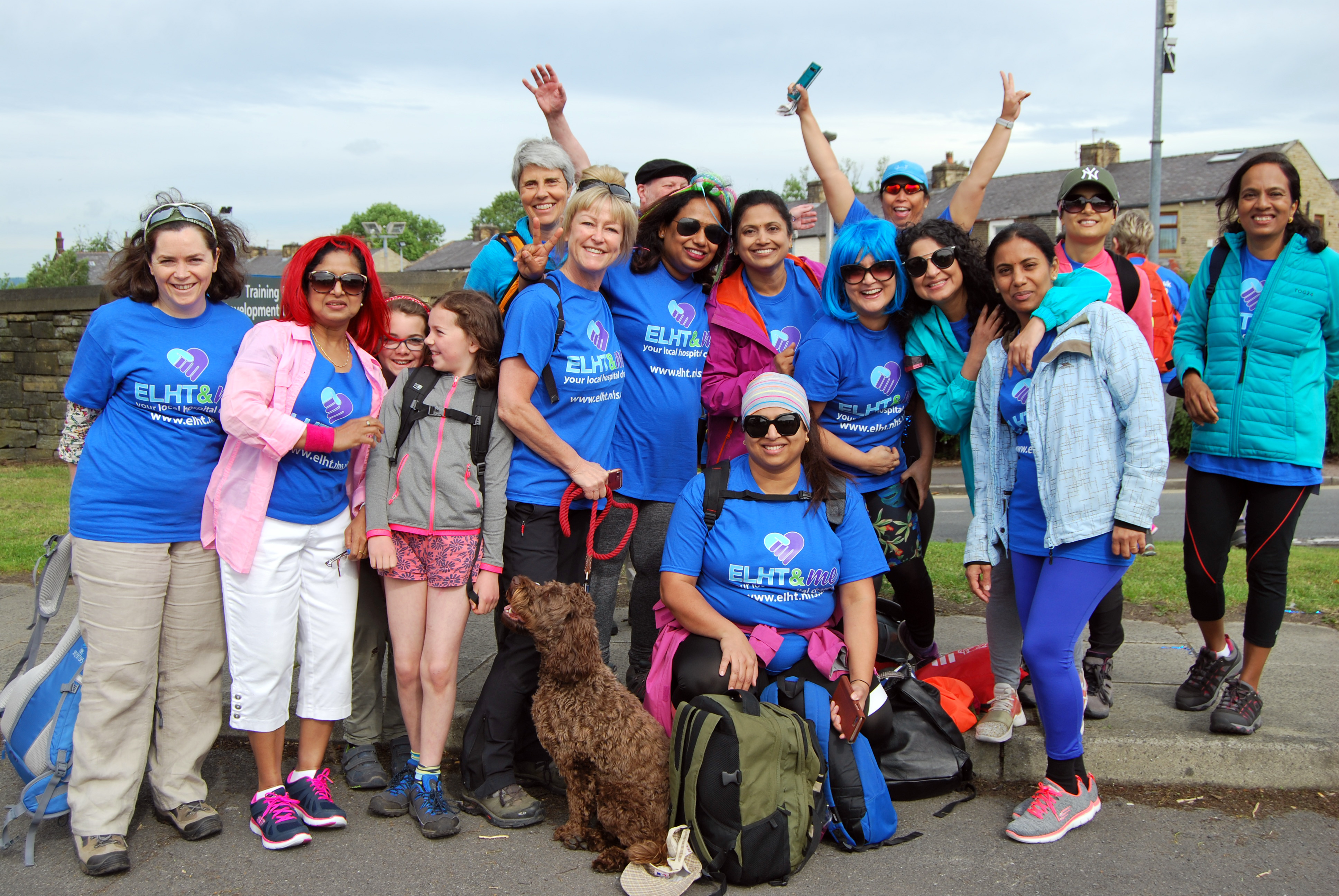 ​
Walkers should wear suitable footwear for walking in the countryside, and we also recommend appropriate outdoor clothing suited to the weather on the day. If it is a wet day some sections of the walk could be muddy.
Please also wear and bring suncream if we are lucky enough to enjoy Septermber sunshine.
It's important to take beforehand, and bring along any necessary medication, such as hayfever tablets, or asthma inhalers.
Eligibility and terms
The minimum age for entry is 12 years. Under 16 years of age to be accompanied by a registered adult walker who is confident of the child's ability to take on this challenge.
The walk is not suitable for babes in arms, pushchairs or those with mobility issues.
Ensure you carry sufficient water, sun protection and snacks for the day.
Follow the weather leading up to the day and carry weather protection if required.
Walk at a sensible pace and enjoy the day, it is not a race.
Leave no trace. Please dispose of litter correctly or take it home with you.
Key crossing points will have marshals for your safety. Please obey all marshal instructions. Our marshals for the day are volunteers from East Lancashire Freemasons.
The walk has first-aid cover but in an emergency call 999.
If you get lost or need any advice or help on the day, call the walk controller on the number that is listed in the Walkers Information Pack.
Sponsorship
Hosting charity events comes at a cost, which is met by your registration fee and any support we can get from other sponsors. The Big NHS Walk is a sponsored walk and we would ask all registered walkers to raise money for the charity.
Online sponsorship
No trips to the bank or counting pennies. Experience has shown that the best way to raise funds is to have a Just Giving page. We are listed on Just Giving so it is easy for you to set up your page so that sponsorship money comes directly to us. To set up a Just Giving page in aid of ELHT&Me:
Go to justgiving.com/elhtcf
Click on 'Fundraise for us' and follow the instructions.
This page can then be shared with your friends and family on social media. We would also ask that you also follow @ELHTandMe on Facebook, Instagram and Twitter so that this event gets maximum social media exposure
Offline sponsorship
Paper sponsorship forms will be part of your sign up pack.
Photography
There will be photographers at the walk from East Lancashire Hospitals NHS Trust.
Photo consent for the walk is on an opt-out basis. We will assume that as a registered walker, you have consented to have your photographs taken and used for charity communications.
If you do not consent to photos being taken of you, please inform a member of staff at the registration desk on the morning of the walk. You will be given a lanyard to wear which must be visible at all times.
If you take your own photos during the walk, please ensure that everyone in the photo(s) has given their consent before sharing on social media. Please tag us in your social media posts (@ELHTandMe on Facebook, Twitter and Instagram) and use the hashtags #TheBigNHSWalk and #ELHTandMe.
Contact us
If you need further information or assistance, please contact the Fundraising Team.
Email: fundraising@elht.nhs.uk
Call: 01254 732140