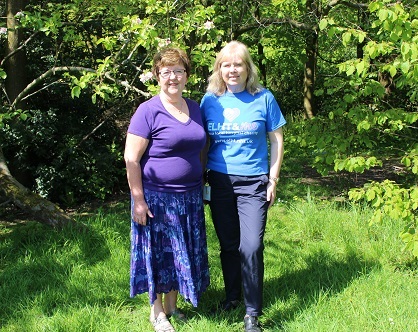 Councillor Anne Kelly was announced as Mayor of Burnley on 15 May at Burnley Town Hall, and pledged her support to ELHT&Me as the Mayor's chosen charity for 2019-20, alongside a donation to Burnley's Talking Newspapers.
Her support for our charity was covered in the Lancashire Telegraph and the Burnley Express.
Councillor Kelly aims to raise a minimum of £25,000 for ELHT&Me, for diagnostic equipment solely for Burnley General Hospital.
Speaking following the announcement, Councillor Kelly said: "I am delighted to support ELHT&Me during my Mayoral term. I feel that fundraising for our local hospital is a really effective way to positively impact all the people of Burnley, and I am confident we will raise the funds we need.
"We are all sure to use hospital services at some point in our lives. Giving something back by investing in new diagnostic equipment means we can improve care for people now, and in years to come."
Denise Gee, Fundraising Manager at ELHT&Me, said: "We are honoured and delighted that Councillor Kelly has chosen her local hospital charity. All of the funds donated during her mayoral term will be spent at Burnley General Hospital, which will make a huge impact for the community the Mayor represents and beyond.''
"This is a fantastic opportunity for the Burnley community to get behind the Mayor and support her to reach her fundraising target, knowing that donations will benefit the people of the town."
For more information on supporting the Mayor's chosen charity, please contact Maureen Neave at the Mayor's Office in Burnley Town Hall, tel: 01282 425011.
---
See below a list of events organised by the Mayor's Charity Committee - this information will be updated as details are finalised. Please email fundraising@elht.nhs.uk if you have any questions regarding specific events.
25 June - Fizz Fashion Show
Fizz Fashion Show and Pop Up Shop
Burnley College
25 June 2019, 7:30pm – 9:30pm
The Burnley Mayor Fundraising Committee are hosting a fashion show and pop-up shop on 25 July 2019. The evening will include a drink and nibbles on arrival.
Tickets are £10, each please contact Kathleen Birtwistle on 07850814466.
Visit the Facebook event page and invite friends and family too! See last year's event in the video below:
14 July - Mayor's Garden Party
Cream Tea in the Garden
46 Halifax Road, Briercliffe
14 July 2019, 2pm - 5pm
Please join the Mayor of Burnley and her consort for their garden party. There will be homemade cakes, jams and marmalades, a plant stall and raffle.
No invitation necessary, but there is a charge depending on what you chose to eat!
Tea and a choice of cakes - £3
Cakes and a summer fruit punch - £5
Entry for children - £1
All proceeds will go to ELHT&Me as the Mayor's chosen charity.
31 July - Visit to Lytham Hall
28 September - Ladies Luncheon
Ladies Luncheon
The Regency Room, Towneley Hall, Burnley
28 September 2019, 12:15pm (for Luncheon at 1pm)
Join us for a fun afternoon and a chance for ladies to dress in their finery and hats. There will be a raffle and a guest speaker, Mr Brian Topping - "Tales of a Customs Officer".
Tickets are £25 per person, and can be purchased from Margaret Lishman (01282 421865, mlishman@burnley.gov.uk).
---
Menu
To start
Succulent prawn cocktail or melon with raspberry coulis
Main course
Carvery consisting of a selection of sliced meats, salmon, prawns, new potaties, mixed salads and continental breads
To finish
Pavlova or cheese and biscuits
Freshly brewed tea or coffee, served with mint crisps
*Please inform Margaret of any specialist dietary requirements and/or requests for a vegetarian option as soon as possible
22 and 23 November - M&S Bag Pack
23 November - Civic Ball
The Civic Ball will take place at the new Crow Wood Hotel. Tickets will be priced at £30 per person.
More details to follow.
28 November - Floral Demonstration
A Floral Demonstration with local florist, Debbie Davis
Towneley Hall, Burnley
28 November 2019, 7pm (for 7:30pm start)
Tickets for the evening are £15 including a light supper. Admission by ticket only, please contact Ida (01282 423612, 07732191791, gavnida@ntlworld.com) to purchase.