In 2009, friends and colleagues Anne Livesey and Helen Howard, both nurses at East Lancashire Hospitals NHS Trust, lost their daughters Darcey and Katie within a week of eachother – both were stillborn. In the year that marks what would have been the girls' tenth birthday, Anne, Helen, their family and friends, have launched a fundraising campaign for the hospital where Darcey and Katie were born.
"We are still here, we still wish things could have been different and it still hurts, that will never go, but we are proof that life can go on and you can be happy again. We decided we wanted to do something positive in the year Darcey and Katie would have turned ten."
Anne and Helen have has chosen to support the work ELHT is doing to reduce stillbirths, they were reduced by 20% in 2017-2018. "It is important to us that any money raised goes directly into improving care of babies, parents and their families even when things don't go as planned."
Anne, her family and friends, complete the Great Manchester Run (10K)
On Sunday 19 May, Anne, her husband Craig Livesey, their son Luke and friends Jamie Haworth, Ian Ramsay and Elizabeth Ramsay ran the Simply Health Great Manchester Run as part of the 'Doing it for Darcey' campaign.
​"Our friends have been with us over the last ten years, sometimes not knowing what to say or do, but they have been there, for that we are so grateful, so it makes sense that some of them are running with us, raising money and also raising awareness of stillbirth."
"Our eldest son Luke was 6 when Darcey was born and I know he has memories of how if affected our family. He was so sensitive at the time and today we couldn't be prouder that at 16 he has chosen to run with his slightly embarrassing parents in honour of his baby sister."
Without training, Luke completed the run in 52 minutes and beat the rest of the group!
"It wasn't easy but the event has a great atmosphere and that helps. Craig and I both found it quite emotional to see family and friends doing something to support us in honour of our baby girl Darcey and the money that has been donated is amazing!"
If you would like to donate to the 'Doing it for Darcey' Great Manchester Run campaign, click here - https://www.justgiving.com/fundraising/anne-livesey3
'One Big Charity Night for Two Little Stars' - Saturday 13 July
Anne and Helen started working for the East Lancashire Hospitals NHS Trust as newly qualified nurses on the same day 20 years ago. After losing contact with eachother, a midwife put them back in touch when they both experienced the loss of their daughters.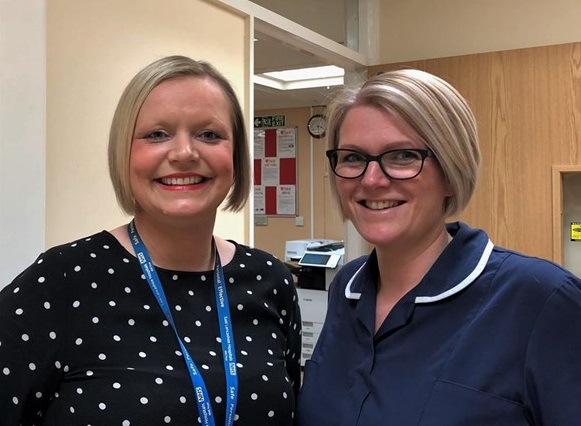 "The way our career paths have taken us has meant for many years we didn't have any contact, then in August 2009 we found ourselves back together in the most cruel way. Our worlds fell apart. At what was the most painful time any parent could ever imagine we found comfort in each other."
Anne and Helen have planned an event on Saturday 13 July, at Clitheroe Rugby Club. There will be music, dancing, hot food, prosecco bar, fun games and a big prize raffle.
Prizes to be won include: £100 cash, a signed Blackburn Rovers shirt, a luxury Tesco hamper, GHD straighteners, a Pandora bracelet, a Beachut Play Centre Party for 20, Burnley FC signed merchandise, Leaping Lizard's Play Centre passes, and vouchers for The Paint Pot voucher, Dawson's, Colbourne House Café, The Villa Restaurant and The Garden Kitchen ​​​​​​​
Tickets for the event are £10 each, and tickets to enter the raffle are £2. They are available from Anne Livesey (anne.livesey@elht.nhs.uk or 07907740578) and Helen Howard (helen.howard@elht.nhs.uk or 07969318951).
Visit the Facebook event page here - https://www.facebook.com/events/1288322847998515/ to register your attendance, and purchase raffle tickets.
Visit the 'Our Big Charity Night for Two Little Stars' Just Giving page to donate - www.justgiving.com/fundraising/anne-livesey4