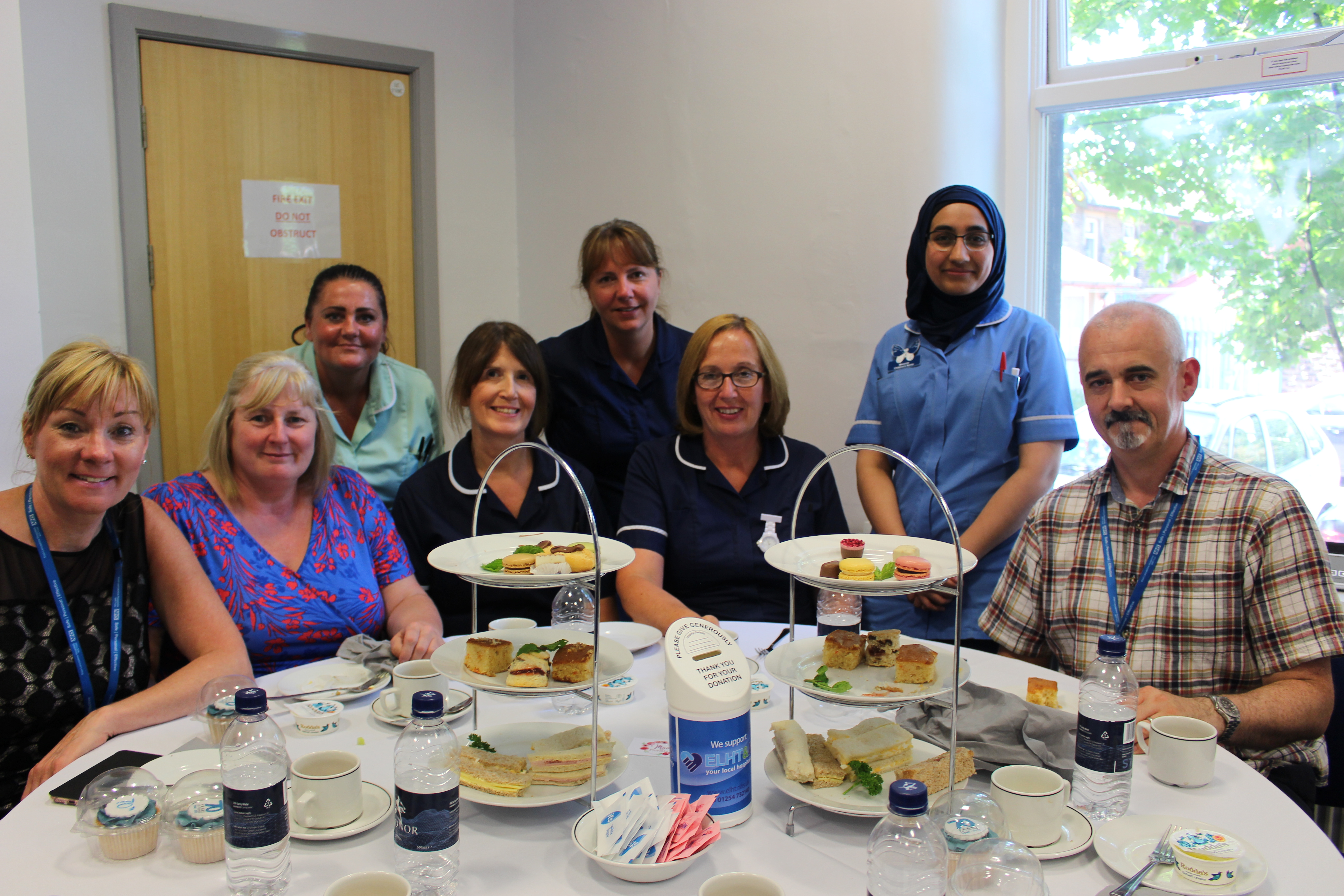 The NHS Big Tea is back! 5 July is the NHS's birthday, so celebrate by hosting a fundraising tea party for ELHT&Me, your local hospital charity, anytime in July!
Plan a party
Get involved and host an #ELHTea party!
Download the party pack resources below - bunting, invite posters and more! Contact fundraising@elht.nhs.uk if you'd like branded resources like collection tins or tshirts for your party too.
Pick a date, a time and a place and tell your friends, family and colleagues about your Big Tea using the posters and digital assets in the pack. Put up your posters everywhere, and advertise your event on social media, using the hashtag #ELHTea and tagging us @ELHTandMe.
Celebrate and raise money in any way you like such as donations, baking competitions, a raffle, or a quiz – it's entirely up to you – the more fun the better.
After your party, you can make a quick and easy donation to ELHT&Me. If you'd like to present your donation in person, email fundraising@elht.nhs.uk, or visit our JustGiving page to donate online.
Food and drink ideas
Stuck on what to serve at your afternoon tea? See some popular options below:
Hot Drinks

- English Breakfast tea
- Earl Grey tea
- Herbal teas (peppermint, camomile, fruit teas)
- Coffee
- Hot chocolate

Cold Drinks

- Fruit juice
- Lemonade and other fizzy drinks
- Orange juice
- Milkshakes

Sandwiches

- Cheese and pickle or chutney
- Egg mayonnaise
- Ham and mustard
- Tuna (with or without cucumber)
- Salmon
- Cucumber

Sides

- Sausage rolls
- Crisps
- Salads
- Quiche
- Carrot/celery sticks and dip

Cakes

- Chocolate cake
- Fruit cake
- Coffee cake
- Victoria sponge cake
- Lemon drizzle cake
- Cupcakes

Other sweet treats

- Scones with jam and cream
- Pastries
- Strawberries and cream
- Biscuits
- Banana bread
- Tarts (Bakewell, Egg Custard, Lemon)
*If you are serving alcohol, please ensure the venue has the correct license to do so.
Top tips
It doesn't all need to be homemade! Buy some of your cakes and other food to take the pressure off.
Ask friends and family who are attending to bring something too. You can also give them jobs on the day - people like to feel useful!
Organise some activities for little ones, like colouring books or cupcake decorating, to keep them occupied.
Put collection tins on every table (or around one large table) so that people can donate easily.
Fundraising ideas
There's a few ways you can use you #ELHTea party to raise money:
You can ask for a minimum donation on entry, or ask people to contribute when they choose their food.
Host a quiz with a small entry cost (with a prize for the winner)
Host a raffle or tombola. The Fundraising Team can advise on the best way to get hold of free prizes.
Fun games like "guess how many sweets are in a jar", "guess the flavour of the cake" are always popular.
A sealed bid auction for a particularly nice cake or another prize.
Contact the Fundraising Team if you want to discuss any other fundraising ideas - we are always happy to help!