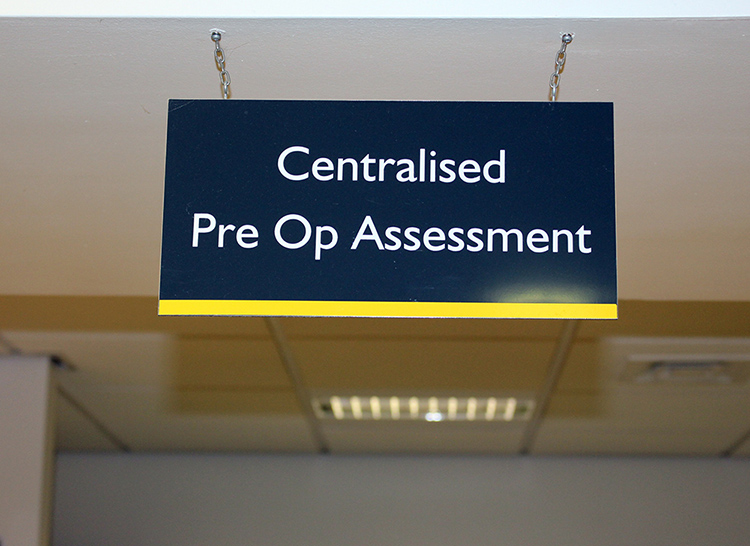 The Perioperative Medicine Department (Preoperative assessment)
The perioperative medicine and anaesthetic departments work together to allow you to undergo operations and procedures in comfort and safety at East Lancashire Hospitals.
Who is the service for?
A pre-operative assessment is performed on all patients who are going to have a procedure or operation performed under a range of different types of anaesthetic in all but the very fittest of patients. Your pre-operative assessment happens after you and your surgeon have decided that a surgical procedure is necessary.
What do we do?
Our specialist preoperative nurses will assess your fitness for undergoing your surgery. The aims of the service are to:
Assess you to ensure that you are as fit as possible for surgery and anaesthetic.
Help reduce your worries and concerns.
Provide verbal and written information about your admission to hospital, your surgical procedure, length of stay and discharge.
A pre-operative nurse will undertake the majority of your assessment, asking you questions about your general health, medications and your lifestyle (e.g. whether you smoke or drink). They will be able to discuss the anaesthetic options available to you - these vary depending on your surgery and any health conditions. Options include general anaesthesia (here you will be asleep), spinal anaesthesia, epidural anaesthesia and local anaesthesia with or without sedation (where you will be either drowsy or awake).
How long will it take?
You should allow at least 2 hours for your entire Pre-Operative Assessment appointment.
If you have a complex medical problem, you may be referred to an Anaesthetist who may want to see you prior to your surgical procedure in a separate clinic appointment.
When is the service available?
Pre-operative Assessment Clinics are open (Monday – Friday) at both Royal Blackburn and Burnley General teaching hospitals.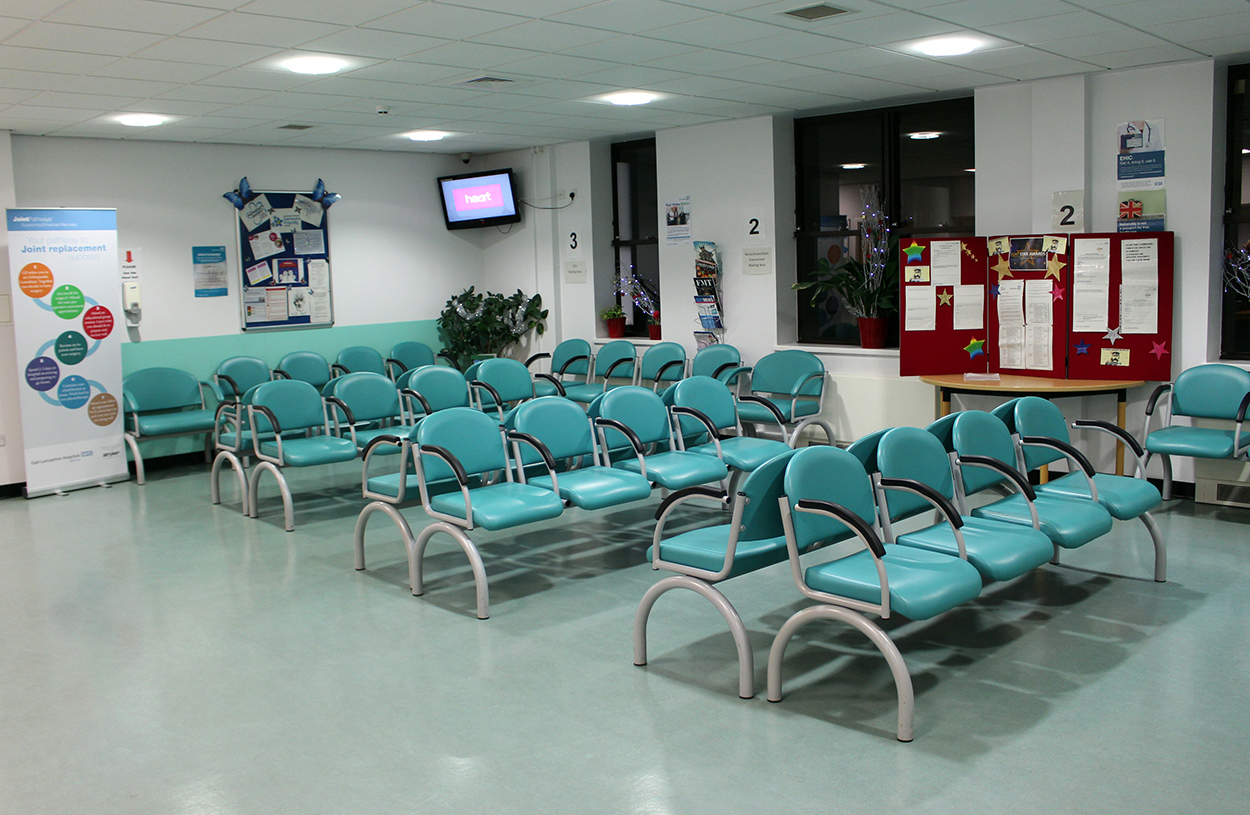 Where are the services provided?
Pre-operative Assessment Clinics are based at the following locations:
Royal Blackburn Teaching Hospital
Centralised Pre-Op Assessment
Level 1
01254 733573
Burnley General Teaching Hospital
Centralised Pre-Op Assessment
Area 3
01282 803402
What to bring with you?
This is a clinic appointment so you are able to eat and drink as normal before you attend your appointment.
Your appointment letter
A list of current medication that you take, including their strength and how often you take them – your GP prescription should show this information clearly
Any samples that have been requested
A list of any relevant medical conditions or surgical procedures you have / have had
Questions you may have about your surgery or anaesthetic.
Change for car parking charges
If you have a medical alert card or medical implant e.g. pacemaker, it is important to bring these details with you to show the nurse.
Please don't bring in your valuables to hospital.
What do I do if I need an interpreter?
Please note that friends and relatives are not permitted to interpret for you during your assessment. Therefore if your English is limited or you need the services of a sign language interpreter, please contact the Pre-operative Assessment Clinic as soon as possible so that an interpreter can be arranged.
Changing or cancelling your appointment in advance
This appointment is important preparation for your surgery .If you're unable to keep your appointment, please let us know as soon as possible, so we can rebook your appointment and give your original appointment to someone else.
By calling the number on your letter
Rebook function through text reminder service
Cancelling function through text reminder service.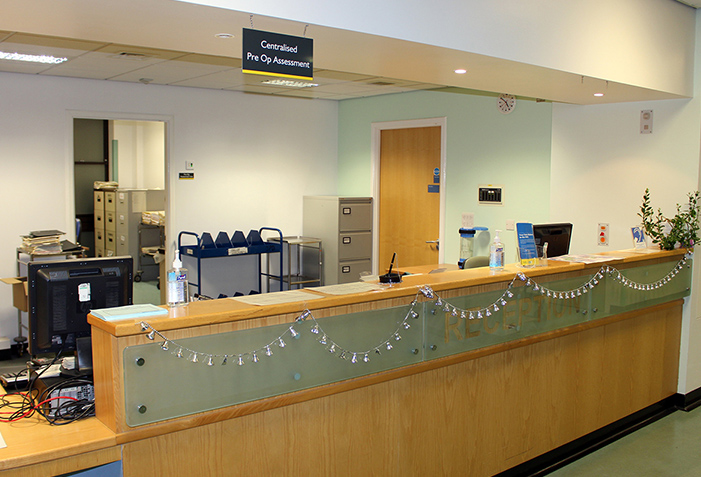 At your appointment
Your blood pressure, height and weight will be checked some of which may be undertaken by our Health Care Support Workers. You may also have other additional tests carried out as appropriate for example,
Swabs for MRSA (methecillin resistant staphylococcus aureus) a type of bacteria that can cause infections. Any infection must be treated before you can have surgery
Blood tests.
Urine test (to test for infections, which must be treated before you can have surgery).
A physical examination, so you may need to partially undress and lie down on the examination couch. This examination will be performed by the nurse, who will listen to your heart and lungs.
ECG ( a tracing of the activity of your heart)
Pregnancy test.
Lung function test
Chest X-ray
After your appointment
If we find that you have problems that we were not aware of, such as high blood pressure or diabetes, you will need to visit your GP for treatment
If further tests are needed, the Pre-Assessment nurse will refer you to the relevant hospital department or your GP
In certain more complex cases you may be asked to attend a further appointment with one of our consultant anaesthetists who will be able to discuss your procedure, anaesthetic and risks in further detail as well as arranging any further tests or assessments that may need to be done.
Other tests that may be necessary include:
What happens if I need an appointment to see the anaesthetist too?
If you are asked to attend a further appointment to see one of our consultant anaesthetists then this can sometimes happen on the same day or, more commonly, you may be asked to return another time.
The anaesthetist will review any health problems together with your medications and any tests you have already had. They will be able to talk to you in detail about any concerns you might have and will work with you to plan your anaesthetic and post-operative care and pain relief.
Cardiopulmonary Exercise Testing (CPET)
For certain, more major operations, you may be asked to do a fitness test as part of your assessment. If this is the case then you will receive a separate letter informing you of this.
Click here for information about the Cardiopulmonary Exercise Test.
Surgery school
All patients who are having major surgery are invited to attend Surgery School; this is an opportunity for you, your family or friends to come and meet the team who will be involved in your care.
This single education session is part of the Enhanced Recovery Programme which aims to get our patients back to normal function whilst reducing risk of complications after surgery. Our class presentation will be given by an enhanced recovery nurse, acute pain team nurse, physiotherapist and pharmacist. There will also be members of our research team available who will be able to explain some of the current research projects in our hospital and how you might be involved.
Surgery School aims to give you:
Tips and tools on how you can improve your health and fitness in preparation for surgery
Specialist physiotherapy instruction for before and after your operation
Easy to understand information on what to expect when you come into hospital
Important information about your Enhanced Recovery Programme
An opportunity to meet the professionals and ask questions.
Hip and Knee School
All East Lancashire Hospitals patients who have elective hip and knee replacements are placed on the 'Enhanced Recovery Programme' (ERP). This is a modern evidence-based approach that helps patients undergoing surgery to recover sooner and return to normal activity. Before patients undergo surgery, they are invited along to the school to hear explanations about the technicalities of the surgery and help allay any potential worries or fears.
What does it involve?
The class is 2 hours long and involves:
Meeting members of the multi-disciplinary team
A presentation where patients are encouraged to interact
The opportunity to ask questions
A demonstration of model implants, materials and equipment
Refreshments.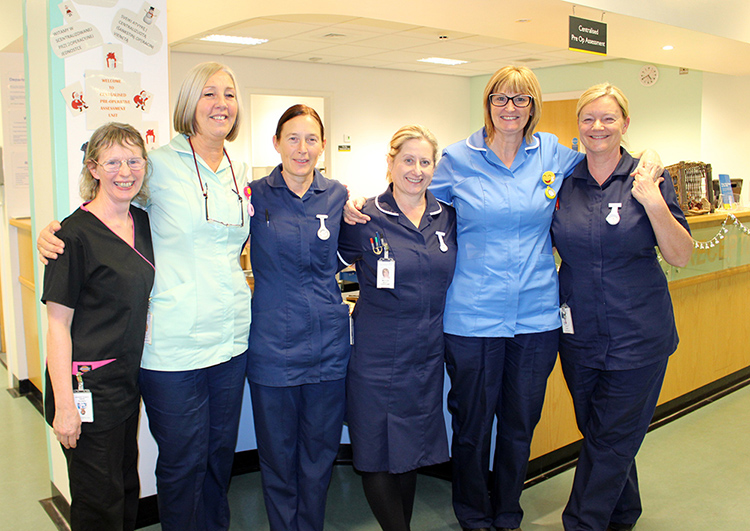 Key staff for your information
Michaela Scott, Pre-operative Assessment Service Manager
Patient Information
· Royal College of Anaesthetists https://www.rcoa.ac.uk/patient-information