Published on:
3 August 2018
---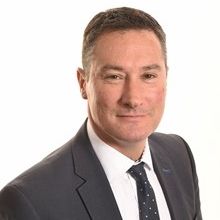 Hi everyone. While most of the recent talk has been the extended good weather and the World Cup there's still plenty of good news to celebrate here at ELHT!
I was delighted yesterday (Thursday) to accept an invitation to the opening of the Therapy Garden at Pendle Community Hospital. An excellent initiative by our Integrated Stroke Therapy Team supported by Pendle Freemasons. Horticultural therapy is proven to build strength and stamina, improve balance and movement, and provide a feel-good effect which can be vital during long hospital stays and ongoing therapy.
It's always a pleasure to visit Pendle and it was good to see members of the Friends of Pendle Community Hospital which reminded me yet again of the important role volunteers play at ELHT: in many wards and clinics; in our Learning Centre and libraries; at our Birth Centres, on our reception desks and, well, the list goes on and on and on! Thank you to all NHS volunteers across the country for all that you do! And a special thank you to Pendle volunteer Doris Iveson who this week celebrated her 96th birthday after serving her local hospital for more than 30 years. Well done, Doris and happy birthday!
Health care workers are extraordinary—they embrace those who suffer, while the rest of our culture too often denies the reality of illness and death. However, extending mind, body and spirit every day to support patients and families in heart wrenching situations, and working to improve care in a complex healthy and social care system, takes its toll. Mindfulness is an excellent tool to help staff understand, tolerate, and deal with their emotions in healthy ways. We now offer a two-hour 'Mindfulness and Compassion' session which gives staff an introduction to mindfulness, its benefits and the next steps. Book your session via the Learning Hub.
Speaking of culture, have you completed the 'culture and leadership survey' yet? I'd really encourage all staff to complete this. It is totally anonymous and is an important part of our work to make compassionate leadership the cornerstone of our future development. You can access the survey here.
The time is fast approaching when we welcome inspection teams from the Care Quality Commission (CQC) with focus groups taking place later this month (20-24 August) before a week-long inspection of our services (24-28 September). On the last occasion CQC inspectors visited ELHT in 2016, the Trust received the news that both the Royal Blackburn Hospital and Burnley General Hospital were rated as 'good', a true reflection of the hard work that our committed and dedicated staff carry out every day. Preparations for this latest inspection are in full swing and I have great confidence that each ward and department will be ready to show the very best ELHT has to offer when the inspectors arrive.
Until next time….