Published on:
2 November 2018
---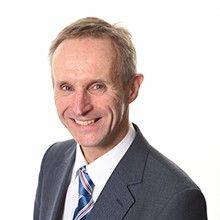 Hello everyone. Kevin is on holiday this week, so I am today's guest blogger.
There's lots I want to talk about and I'm going to begin – in true doctor style – with a question for you. Have you had your flu jab yet? Over 50% of our staff have accepted the invitation and that means around 4000 of us have been 'done'. However, it also means that around 4000 of us haven't! Our flu team are doing a great job, and we have a reputation for being the best in the country of getting staff protected. So, if you haven't had your jab, make time for it as soon as possible. Click here for more info. You'll be protecting yourself, your patients, your family and your community from this truly horrible disease.
I attended a meeting in London earlier this week with Sir Simon Stevens and Ian Dalton, national leaders of NHS England and NHS Improvement. They confirmed that the long term, NHS 10-year Plan will be published in December. This will confirm the arrangements for future funding levels as well the expectations of the service, with integration of services expected to be a priority. We will then be able to further develop our own plans, along with our partners in the Pennine Lancashire system – or rather, the Pennine Lancashire Integrated Care Partnership. Here in Pennine Lancashire, we do have strong track record of collaboration between primary, community and hospital based services and we are already making real progress towards effective integration of services.
I was delighted to welcome Sir Keith Pearson, Chairman of Health Education England to the Trust this week as he returned to his East Lancashire roots to shine the spotlight on our excellent work offering rewarding careers to people from all backgrounds and at all levels. All those staff who met Sir Keith – and there were quite a few - will attest to his warm and welcoming personality and I can tell you, he was genuinely impressed with how our Learning and Development team are doing great things to ensure ELHT has a talented and motivated workforce for a long time to come.
One of the many talented people Sir Keith met during his visit was our Widening Access and Apprenticeship Lead Sufiya Rasul, a champion of our local recruitment initiatives that Sir Keith was so impressed with. As part of Black History Month, Sufiya was recently presented with a special award recognising her success in promoting ELHT as the employer of choice for young people across East Lancashire. How does she do this? Well, in the last 12 months alone, Sufiya and her colleagues planned and managed 100+ events where over 10,000 local people learnt more about the wide range of careers available at the Trust. Well done, Sufiya.
And finally, a gentle reminder to check your inbox and complete your NHS Staff Survey. More than a quarter of you have already completed yours and we do encourage every staff members to take part before the 30 November deadline. There's many reasons to take part – the Survey gives you a voice within the Trust, it lets us know how it feels to work here and helps us look at ways to improve things for staff and patients.
Well, that's it from me! Kevin McGee will be back on blog duty next week.
Until next time…