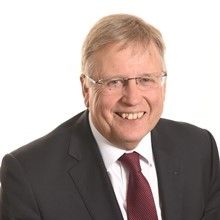 Stephen Barnes was appointed to the Trust Board on 1 January 2015.
He has been a Local Government Chief Executive in Lancashire for the past 22 years and prior to that was a Director of Finance in Local Government for a further six years.
Stephen is an accountant by profession, a past President of the North West and North Wales region of the Chartered Institute of Public Finance and Accountancy and a past Examiner of the final part of the Professional Accountancy Examination.
During his time in Local Government, Stephen has gained broad experience in strategic leadership, partnership working and joint venture initiatives across the public sector, including economic development and regeneration services and community development and engagement.