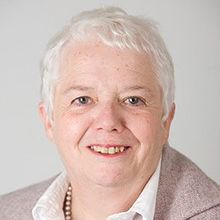 Eileen Fairhurst was appointed to the Trust on 9th February, 2014. She is a highly experienced Chairman and has chaired a number of large, complex public and third sector organisations, including acute, specialised mental health and primary care trusts. She established Salford PCT in 2001 which became one of the highest performing PCTs in the country. Latterly, she was the Chairman of NHS Greater Manchester, the largest PCT cluster in England. By April 1st 2013 NHS Greater Manchester had facilitated the establishment of twelve CCGs and the safe handover of PCT services to new receiving organisations in the ten Greater Manchester Metropolitan Borough Councils.
All of her NHS roles have involved partnership working with the private and third sectors and local government. Eileen has always ensured that perspectives of patients and communities contribute to service developments. She has championed a number of whole systems innovative service re-design programmes, including mental health, children's and women's health, urgent care and the Greater Manchester Healthier Together programme.
Over the years she has been a regular contributor to development programmes for NEDs and Aspirant Executive Directors and to national conferences on Governance and leadership. Eileen has been awarded an MBE in recognition of her contribution to the NHS. She is Professor in Public Health at the University of Salford where she has an international research profile. Her research is used widely throughout the world.